u.Don haven really been able to blog these days cos of some error on his IE..

wonder what's the problem..
so, if you had rmbered from the previous post, u.Don had a little surprise for me!
it was a handmade ring! filled with a table of sushi and also an ornament of green (my fav colour!)
so why was this done? it wasn't really new, u.Don had done a box of miniature food for me 2 yrs ago for V. day for me.. it looked like this!
anyways, u.Don managed to get his hands on some really expensive clay..
or so he told me to NOT waste any, and he chided me for dropping them on the floor.
oh wells and with baby oil and what nots..
it was a tedious process..
he created this lovelies from his artistic hands and hand-painted them..
it was really fun to sculp this little things but it's really hardwork..
the smaller it is, the harder it gets!
I had the ever great job of glazing the soon-to-be finished product!
and ta-da!!!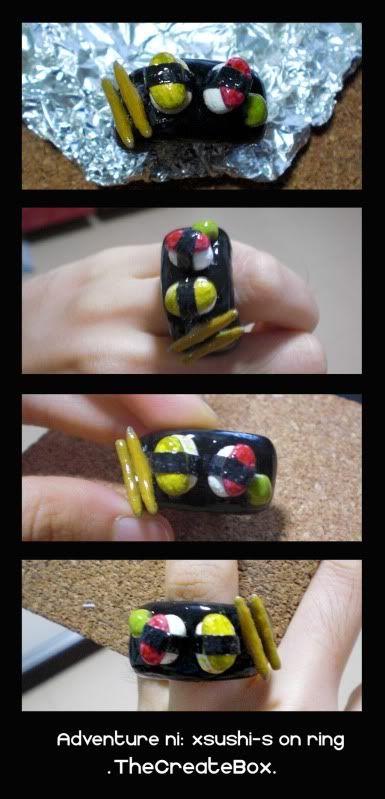 psst: this was done in effort to NOT waste clay... cos i spoilt some of dear's clay..
Dear also made a remodel of the Mousehunt's mouse! It looks so cool!
You have got some cool moves there babe!!! YEA!
*******
hope you guys enjoy the clay sculpting we did!
I have finally decided on my new laptop baby!
decided not to get the S10 netbook, probably too small and too lag to run all my multi-tasking applications!
so I decided to get back my good old LENOVO!
although it's not really pretty and stylish, but I like it for it's matt and traditional look.
I am so happy and can't wait to get her!
She's the Lenovo Thinkpad series X200!
It's a nice deal to get it for SGD1,999..
a lil hefty sum there but Dear says it's definitely a GOOD DEAL!
It weighs only 1.7kg with 6 cell battery and only 12.1" screen!
Ultra-portable I tell you..
plus I get a FREE 4GB upgrade and a FREE external DVD drive!
Now I can bring her to school easily!
Only draw back is the lack of a touch-pad, so I gotta get used to the touch point or use a mouse!
But I am just glad to be able to get a new laptop! with a battery pls!
my current one is battery deficient, what good is a laptop without a battery!
*rolls eye*
now my three yr laptop can retire and become my home desktop..!
my new babe!
tmr's the boring orientation for Yr 4..
really dun understand why a Yr 4 needs orientation! argh!!!
gotta wake up so early!!!
better be going to sleep

a.Von
-the end-