Tuesday, July 28, 2009
We are introducing the all new
TEXT MSG purchase/enquiry service
to bring more convenience to you!
Check out the revamped T&C to find out how!
Design CB001: Available
Design CB002: Available
Design CB003: Available
Design CB004: Available
Design CB005: Available
Design CB006: Available
Design CB007: Available
Design CB008: Available
Please DO support!!!
We need you to make it!
♥ UncleDon & AuntieVon Scribbled ♥


Sunday, July 26, 2009
SHOP SHOP SHOP
gonna be a lazt post, since im quite lazy today..
can't wait for CreateBox's official launch tomorrow!
hahaha!
went shopping with u.Don last week, and since I was early from a lunch meeting,
I decided to went to walk at
Topshop
at Raffles City Shopping Centre.
Hahaha! I am really glad I did cos I found some nice picks there!
Bought
2 ribbled tanks
, one purple and one yellow at only SGD9 each! It's such a rare find and there's only 2pcs of my size left! So lucky! The purple one is from
Dorothy Perkins
, it has such a nice neckline i think!
also bought a
baseball jersey
for u.Don and myself, also at 9 bucks only! Can u believe it!
Then, bought u.DOn 2 pairs of
berms
. Really inspiring colours. Sorry no photos here, u'll know them when u see them'.
Sort of needed a pair of sneakers for lab, so my original intent was to buy the
Van's half Cab
, I really like it, but if I want it I will have to ship it in, I cant find one in SG!!
It would really be lovely to wear this to school! I want! HUMPH!
Then I saw the
Timberland Boat shoes
. Love them too! But it's way too expensive for me to afford it! Booo!
Actually I tot this slips ons from
Crocs
was cute too, but u.Don says it sux, oh wells!
In the end, I bot a pair of Macy slip ons from
Lee Cooper
. Really Love the colour and cut of the shoe, it's gonna be great for lab!!
I think I will still buy the half cab if I can find it! and if it's affordable! So tell me if you know it sells somewhere okies!
Been deciding on whether I should purchase my
Lenovo
netbook. It's the
S10
I am talking about.
Really cool and light-weight. Just what I need! So that I can bring it to school everyday! Or should I get that full-fledged laptop
X200
? u.Don says it has much more processing power, lest I become pek chek!
Haaaa, dunno la, it's so cool to carry this netbook. Shall I just go for looks?
I shall see...... hmmm
So now, I am just stocking up on lab wear. Gonna need a pair of jeans, I want a cheap version of the
Topshop bleached jeans
!
I want it bleached!! Like near white! HAAAA, if i can find it!
I shall stock up on leggings too! Elastic waistbands are definitely much comfi with my bulging stomach!
So much for pictures!!
Rmb to support CreateBox's launch ok! Everybody needs a tee or two! They make great wear!
So why not
get CreateBox's tee? They are super comfee
, see they rhyme!
See you at
The CreateBox
soon!!
I am listening to
Fire
by
2ne1
now:
♥ UncleDon & AuntieVon Scribbled ♥


Saturday, July 18, 2009
Schools starting..

Boo hoo!

Means I gotta get the "study momentum back". Sick!

I wanna slack more!

I think I slacked Too much..

I think that I am turning Fat!

I dun like it, but I am so NOT doing anything to cure it.

Still eating like a pig and watching Discovery Channel with Dear on the couch the whole day..

And when me and Dear head out, it's for food!

Just ate at the Japanes Concept food court at Northpoint called Ishi Mura (recommended by J&J)..

It's good and reasonable priced! Had omelette rice while Dear had the stone bowl rice.

SUPER filling! And we shared a pao pao cha *twinkles in the eye*

Really pei fu ourselves, travelled all the way there to eat at the food court LOL.

And then I had a ILLUSION again, just like the Guitar Girl Illusion.

I saw a auntie as we were coming down the escalator.
And then I exclaimed to Dear," Wah seh, the auntie so havoc!"
Dear gave a nonchalent laugh (apparently he din think that the auntie was havoc at all).
As we approached near her, I realised that I was having this illusion!
Guess what!

She was actually wearing this red capris and navy blue top. Just below the navy blue a thick strip ofoff white lines.
And SO I envisioned the auntie to be wearing a top THAT short only up till her belly button and she was flashing off her stomach area in public!!
WAHAHAHA I know I am so far-fetched!
But I really have these crazy illusions sometimes!
I really love them..

Lastly, I love imitating Auntie Lucy & Mr. I Love Singapore in front of Dear.
It is damn Funnie.

-the end-
a.Von

♥ UncleDon & AuntieVon Scribbled ♥


Thursday, July 16, 2009
Hey peeps,
TheCreateBox is set for launch next Thursday 10PM. It will be the brand new store selling the coolest range of In-house designed Male Tees! The tees are specially manufactured for The CreateBox so only purchase authentic CreateBox Tees!
Please do support us! We'd really appreciate it!
For now, you are all welcome to join The CreateBox fan club by clicking on the link below!
There, you may share your comments.
We welcome any comments at all!
If you are so kind to help us spread the word to your friends about The CreateBox, we would be so happy!
Thanks so much in advance guys!
♥ UncleDon & AuntieVon Scribbled ♥


Wednesday, July 15, 2009
to make it an official announcement, a.Von is no longer part of GlamRags.
actually this is news like several weeks ago, but I dunno why I had made it till now to say it. ha.
GlamRags has progressed much without me, which is a good thing.
For all you know, I may be the 老鼠屎.
It is kinda sad and stuff but it was a decision I had to make.
Hopefully, GR will progress with flying colours!
I wish them the best of luck.
The main reason for leaving GR is to help U.Don with business.
I dun think I will be able to manage both sides, so I guess my heart lies more with U.Don side.
**********
Other matters aside,
We have printed our trial batch, so we have got 2 sample tees left.
We'll be wanting to sell them off, so if you are interested, drop me a mail.
Oh it's going off for SGD 24.90 MAILED.
Details are PTP:17", Length:21" and Sleeves:5.5"
It's really made of good quality lycra so it's like smooth to the skin.
And we have specially designed wrapping paper to go along with the cool tee!
Plus you would be the only 2 person with this tee, plus me of cos! haha!
Now, me and U.Don is trying to come up with our first shipment.
After that, its gonna be an
ALL MALES TEE
kinda thing!
So guys please support! Girlfriends, please buy it for you boyfriends!
Much appreciation from The CreateBox Team in advance! :)
For now, we'll be busy.
-the end-
a.Von
♥ UncleDon & AuntieVon Scribbled ♥


Saturday, July 11, 2009
updates updates
attended WT's commencement on
Wednesday
, after a gruelling battle with STARS for some NTU peeps..
Attending commencement makes me feel like I wanna graduate, gonna miss many once the sem starts..
It was really a mixed feelings kind of thing so I also dunno..
I wonder how it will be like when it is my turn to graduate...
Thursday
was a last minute hop to school to meet LF.
apparently got some changes to the procedure in my FYP, so we sort of have a discussion..
the amended content seems to be great, and like more prestigous..
so probably Boss likes it better..
I dunno also..
Gotta do my prep and hope for the best..
Reading journals are mind boggling..
I dun understand the technical stuff...
Friday
was our tee trial collection day!
Result was satisfactory!!
Shall be heading ahead with our operation alpha..
but before that must get our finances right!
sweet!
Saturday
was photoshoot plus Fright Night under QN's request.
photoshoot was fun, we managed to do some at the Malaysian Railway along BT, but then we were scared that the man will come and scold us..
so we left quickly..
then we went NP to take.. LOL and we had to brave the rain to get to BTP..
had some nice korean food there and off to the Fright Night..
stupid us got off one stop too early, and walked into the estate..
then walked 2 stops too far down, and had to walk back to the correct stop..
heh heh chuan lor..
and we met at Watten Park, got transported to an abandoned villa on top of the hill like 4km away..
the debriefing was scary la, like telling you not to call ur partner's name on the way in case kernard possessed..
scared the hell out of me..
Dear was scared too but he had to be strong to console me haha!!
Actually, the walk wasn't scary..
SOW one was like way scarier!!
But Hall 5 did a good job of finding that house la..
creepy house owned by the State..
hope their actual Fright Night will turn out well!
and we actually ran into the same 74 bus driver..
he recognised us!!
and even said Hi to us!
Funnie..
plonked into bed for sleep cos I had to get up early for two tuition!
received email. bidding starts 27th july for core.
checked CORS, all cores i wanna take not available. Dunno how sia. Argh dun think now la.
looking forward to the last bit of fun I can have before school starts.!
-the end-
a.Von
♥ UncleDon & AuntieVon Scribbled ♥


Tuesday, July 7, 2009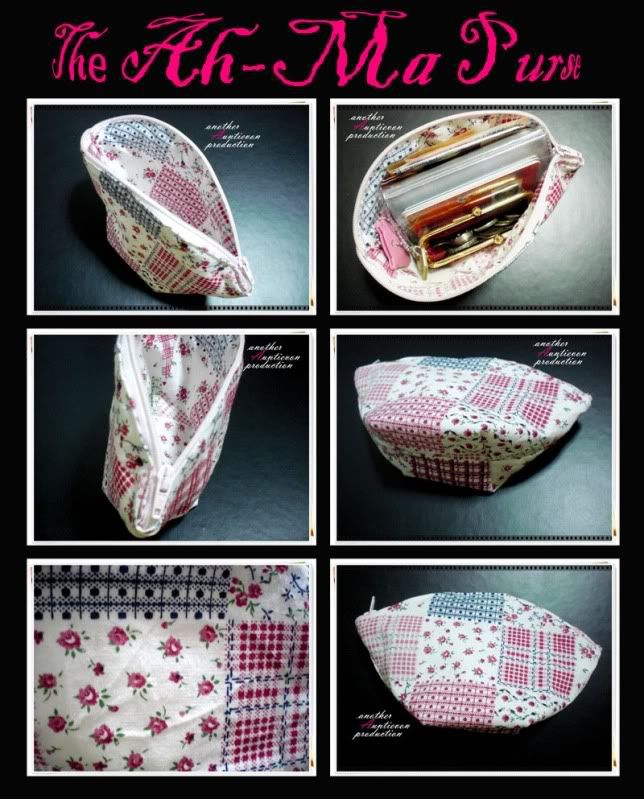 did a Ah-Ma inspired purse today!
only spent like 2 hours on it.
Much bigger than the first purse I did, so now I can put in my keys, my card holder, and my coin pouch all in one!!
But then becomes quite bulky leh, and heavy also.
Haha..
tmr is WT's commencement~
weet!
meet up after a long time, hope there will be many many updates!
-the end-
a.Von
♥ UncleDon & AuntieVon Scribbled ♥


Monday, July 6, 2009
-finally finally finally-

finally again, for settling my FYP project.
u.Don & my friends would have known that I was close to depression over the weekend.
all thanks to me la,
last minute wanna change area of focus.

was really really afraid that I would end up Prof-less.
the thought of it was scary enough.
never was I so helpless.
the worst thing that could happen was when you step into the room and the prof just says,
"the project you are interested in has already been taken up"
those words can like just cause you to go blank for 2 mins.!

woke up early,
travelled to school.
LF said that she was gonna choose today.
I was nervous. plain nervous.
shan't elaborate the whole story here,
don't think it was very nice.

I felt cold in my hands and feet even though I was a successful candidate.
the look of disappointment on the other candidates' face was ____________.
I felt so bad, and it's like so cruel.
and one of them is my friend.
it was like the worst situation ever.
it's a Dog-eat-dog situation, although I feel sorry for them, but there's really nth I can do..

I still rmb the girl's look when she turned away from my line of eye sight.
Horrible.

but still I thank those who had prayed for me,
those who had supported me.


a.Von is happy today.
-the end-

♥ UncleDon & AuntieVon Scribbled ♥


Wednesday, July 1, 2009
Having the past few days' afternoon free, I decided to display my DIY talent skills once again!

This time I did my very own pair of
Destroyed denim shorts
.
If you have been already updated with the fashion news, you would have already known that these are the hottest this Summer.
Many high-end brands are retailing these shorts at sky-price (at least to me..)
So, to save cost, I decided to DIY my very own pair..!
Inspired by F21: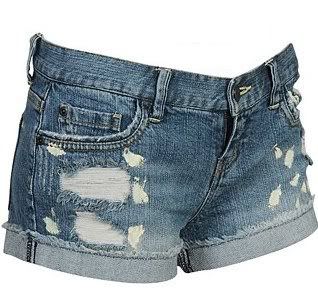 And I tot I was very brave to cut up my pair of acid-wash jeans even though I was new to this project!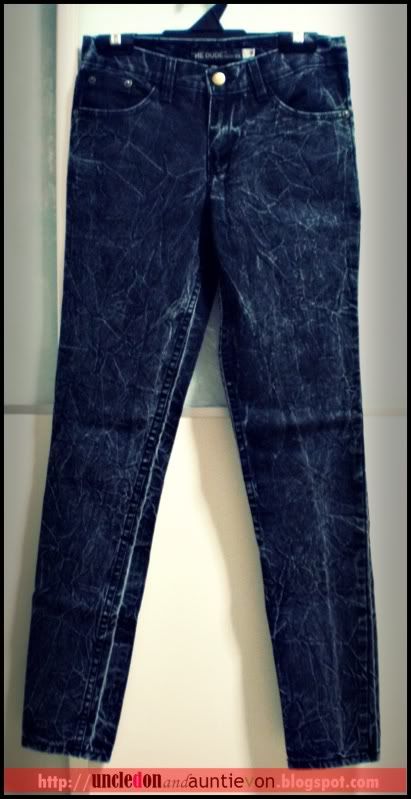 Ha! So this was how my original pair looked like!
It was simple, just find the length that u desire and cut it about 2 fingers width beneath it (cos I was gonna fold it back up).
Next fray the ends using either the tip of the scissors or a seam ripper until you get that rugged feel. Cut any stray strings that are coming loose.
Fold back up the ends and do a top-stitch as close to the frayed ends as possible. This will prevent running ends.
To destroy the denim, I used a variety of tools.
I used a pen knive to do rapid slashing at the area I wanted to destroy. (Rmb to place a block of wood or a thick wade of paper beneath to prevent the slashing from going onto the next layer.)
These slashings would create tears in the material.
Further destroy until desired by using scissors and seam ripper. (you may find that it may not be a very controlled process with all the ripping LOL!)
It is important to note that the place will become uber messy with all the fabric dust flying around. So be prepared!
After you have destroyed the denim to the look that you expect, you will need to prepare a bucket of water (no detergent required if your jeans are already clean to begin with).
Rinse it with force to allow all the fabric dust to be eluted into the water.
From my experience, this has to be done like say 10 tens because there really is ALOT of fabric coming out!
Dry the denim in the sun.
To create that dirty, muddy look.
Prepare a small pail with bleach. Mix in a little water to that it is not too strong. I believe a ratio of 8:2 (bleach:water) is appropriate.
Use a sponge (wear gloves to avoid contact with bleach) and dab the sponge into the bleach.
Dab the sponge around areas previously destroyed and also on random parts of the shorts until desired effect.
Either blow-dry the areas or sun it again.
There you have it!
Your one and unique pair of destroyed denim shorts!
Pair it with tank or tee and you are ready to go!
So this was how mine turned out: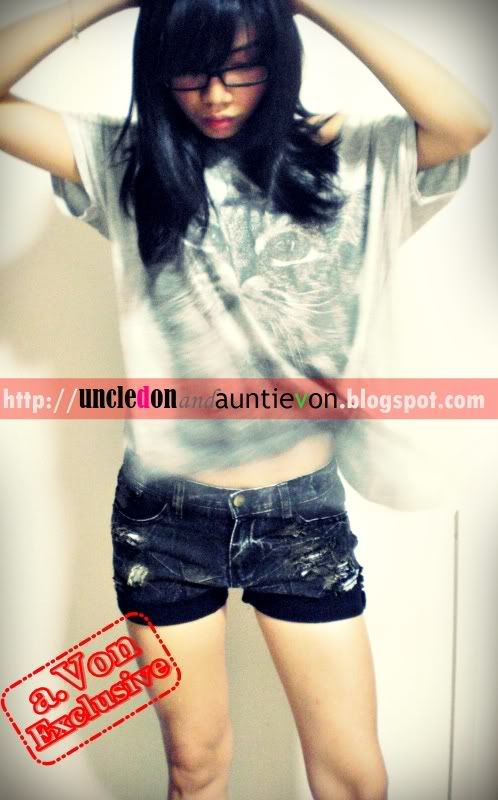 I LOVEEE IT!!
More photos, but pls pardon my messy hair :)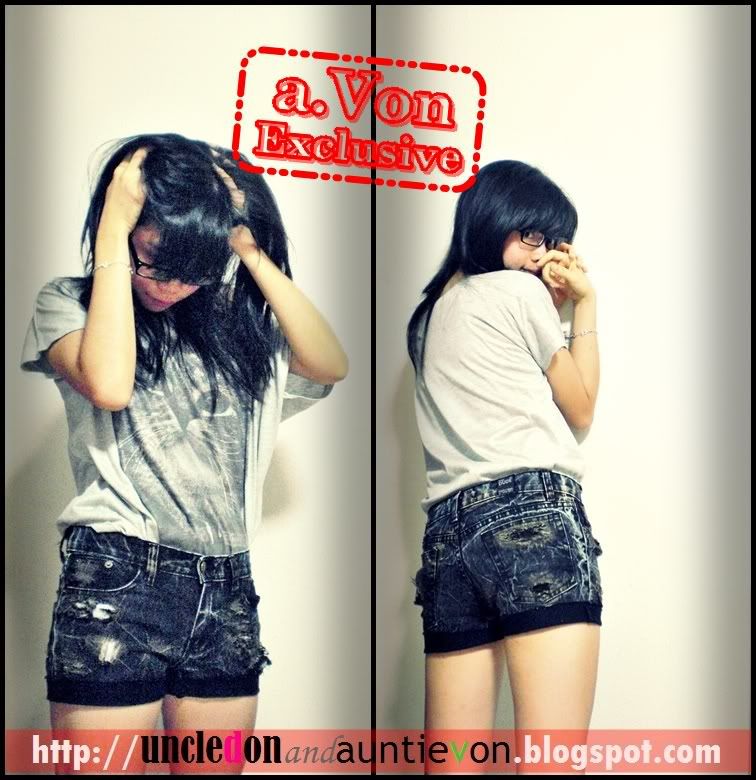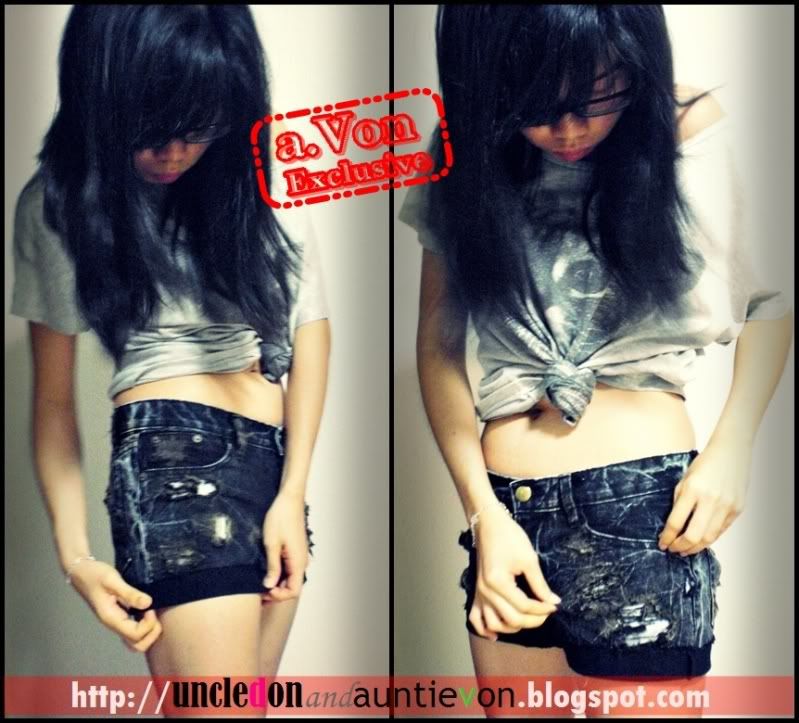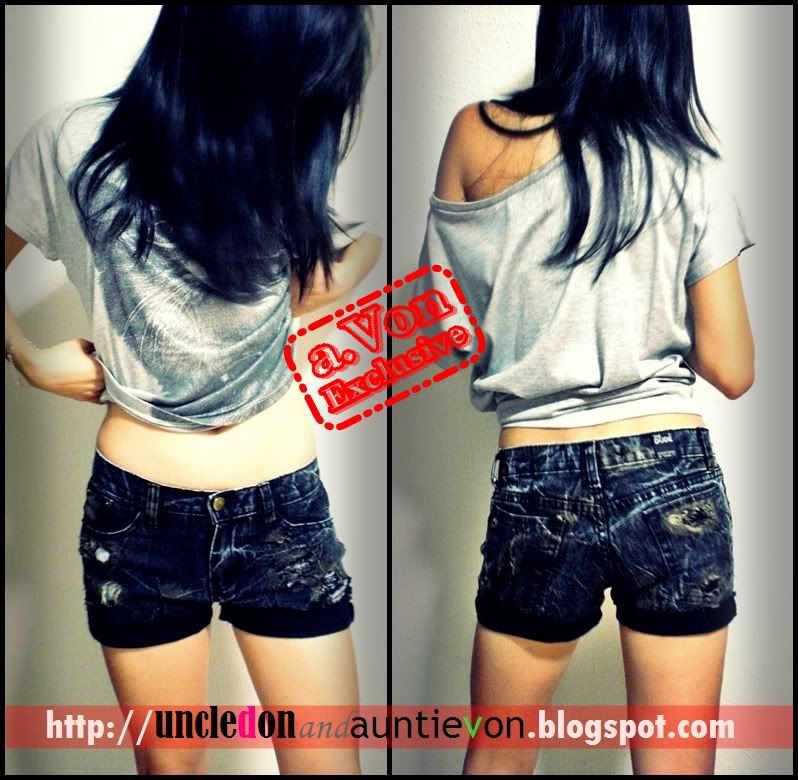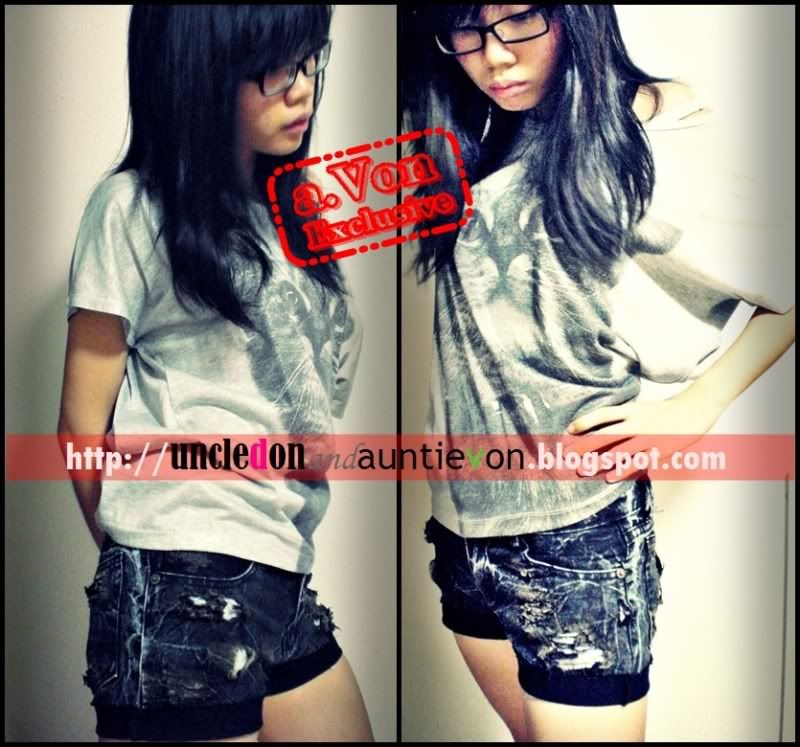 Up close on the destroyed parts: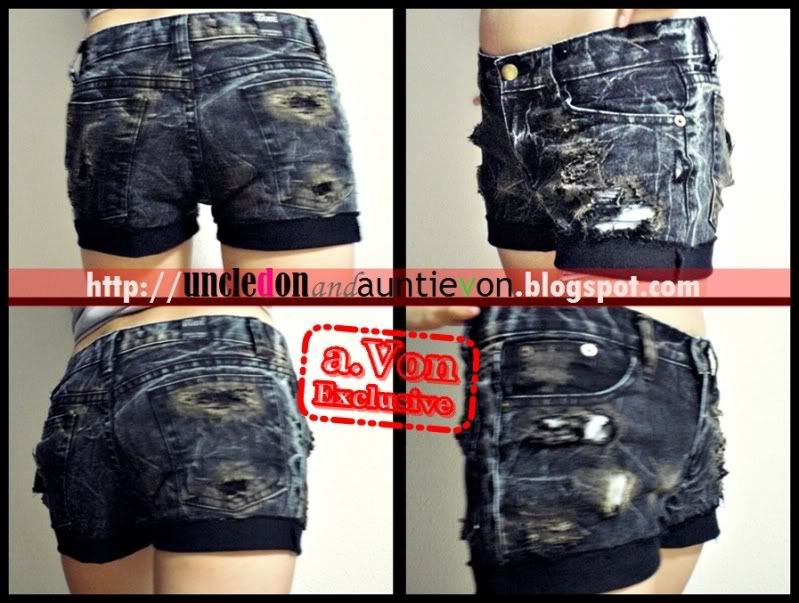 Yup, so that was how I did it.
Hope you will find it fun too! :):)
-the end-
a.Von
♥ UncleDon & AuntieVon Scribbled ♥