Saturday, August 29, 2009
poof - another week gone.!

I think u.Don has officially left the blogging scene. Perhaps too busy with his stuff to keep up with blogging. Haahha..
So bear with me to keep this blog alive.
**********
lab as usual for the week and I had to pass my NMR test which I am NOT even gonna use.
I dun suppose learning it is any use cos if I am out of practice then I wun rmb how to use it do I?
Finally managed a little progress in my FYP which is like after 3 weeks.
Research is so tiring, so never think that people who get the Nobel Prize has it easy.
They probably dun have life.
Wait - they probably dunno what is life.
Knocked off early on Friday and went to NTU to meet Dear.
We had Western Food at Can14 and also had a lil chat with Ben.
The heart-to-heart talk between men, and I am just a little woman.
hahaha!!
**********
Managed to catch this on Saturday:
It was damn funnie.
Even Dear enjoyed the show, despite the fact that I tot it was more of a show for girls.
The plot was very very expected but then it was the comedy in it that was funnie.
And it was really TOOOO easy for them to fall in love, like 3 days to fall in love even tho the guy hated the woman for like 3 years.!
Catch it if you like some laughter.!
**********
I am currently saving up money for this phone!
I like the stylish-ness of it! So cool!!!
I know I am just using the little chip off my phone as an excuse, but if I can get a cheap deal for this phone, I will buy it!
continue to salivate.... salivate over it.!
**********
Been trying to follow up on this HK drama!
But I keep missing parts of it..
Hmmm, why does all the good drama comes after school start!!!
SO UNFAIR!!
**********
On a side note, a course-mate is TAKEN. I take it from the clues that it means she is getting married cos her Bf proposed! That is so very sweet!
HAHA really so envy of all the girls.
Feel happy for her and it would be so interesting to attend the wedding in time to come lol.
**********
So much for the fun part, when will I get serious in my work?
So starting to feel out of breathe!
16MCs solo FYP is no joke!
That just means all my other modules are put on hold.
And staying 1.5hrs away from campus DOESN'T help - at all!
Just makes me very tired.
Hang in there everybody!
Cos we are in for a wild ride!
Here's G-dragon with Heartbreaker:
just love the super blond eh ~~
heading to Dear's place in 2hrs time, meanwhile surf more Net!
-the end-
auntievon
♥ UncleDon & AuntieVon Scribbled ♥


Sunday, August 23, 2009
What happened over the week & weekend.
Weekdays:
Lab after lab,no results still.
Feeling so demoralised n tired.
Lab is so tiring.
It just like drains every single bit of your energy.
And when you finally get home, you realise that you are not really free.
COS YOU ARE STUCK WITH SO MANY JOURNAL READINGS TO DO!
the times I am home (and awake) is barely 5hrs daily.
This is the life I am gonna have for the next one yr.
Hallelujah!
Endure Von, Endure!
I always tell myself that.
Weekends!!!
I love weekends!
HAPPY 4 YEARS 9 MONTHS U.DON!!
Managed to catch the movie Distric 9.
About Aliens (called prawns cos they look like prawns)..
I liked the show. So did Dear.
Like the way it was filmed. Very documentary like.
Loads of CGS. Love them too.
We bet there's gonna be a second part to it.
Probably Called District 10 Hah.
Here's the trailer, watch it and see if you wanna catch it in the cinema!
Also visited the flea at SMU, to catch GR in action.
Business was pretty good for them!
And I managed to get some goodies for myself too!
Argh it's back to sch tmr! It sux!
Looking forward to Can14 date with Dear!
Yum yum western food here I come!
-the end-
a.Von
♥ UncleDon & AuntieVon Scribbled ♥


Saturday, August 15, 2009
One week flew past ever since school started!

FAST ~~
been so long since I last blogged, surf the Net & FB, visiting my friend's blog..
feel so out of touch with 'em..
Been too pre-occupied with being cooped up in the lab.
And I am really cut off from the outside world when I am in lab, cos there's no recep.
ARghhh~ maddening!
It's really very tiring, I am forcing myself to rmb how to do everything that LF is teaching me now.
I have to and I am determined to!
She is flying off on Wed so means I have to be independent.
But the first week only and I am officially strucked down by flu.
Such tough luck.
Not H1N1 so no fret there.
I feel lucky for having a good & friendly mentor, and also the other friendly personels in lab.
Somehow it makes everything more welcoming.
Just recieved email to have my NMR training next week.
means I will have to skip a lecture to go for the training.
Oh mans, I hate skipping lectures.
Also saw Yurong's name in it, so haha there's gonna be a familiar face there!
been so busy that u.Don has been rather lonely these few days.
managed to accompany him on Sat, just dinner n dessert.
that's the best way to relax on a weekend - i feel.
Hope Dear can get me Ben's laptop sleeve. Haha, IF it fits..
I really need to do some shoppping for school wardrobe.!
I shall jio some jie-meis to go shopping, when we all have the time!
For now, I am gonna start to do my reading of notes for the week.
Lastly, I am pleasantly pleased when Dear told me that he wanted this song for our wedding theme song:
♥ UncleDon & AuntieVon Scribbled ♥


Friday, August 7, 2009
Boring talks one after another today.
It was the Lab Safety Talks today at school for all the Honours student.
A thick handout was provided to us. Yucks.
Totally din listen at all. Me and JY yak-ed while Toh slept thru.
The only part we paid attention to was the First-Aid part!
The speaker was real funnie and a great deal can be learnt!
It was inspirational for me to become a first aider.
I want to be a certified one.
Googled and found that some organisation was offering the course for like SGD250.
Red Cross has a somewhat similar course for $90.
Oh wells,
wait till I have the money then say ba.
Two tea breaks were provided.
I suppose that was all what we were looking forward to every now and then.
It kept us going thru those boring talks.
Until it was 430 and the test came!
YEA!
there was gonna be a test and we din pay any attention at all.
Guess what?
The only part that was NOT tested was the First-Aid part!
HAHAHHAHA we found it an irony!
Anyway, the test was open-book.
We just fen gong he zhuo and finished it.
Copied and trusted each other's answer like free.
LOL.
Just glad that is is over.
just a side note,
FB kernard DOS attack.
it was a simultaneous one affecting LJ, Twitter and Blogger.
Yup heard it on the news and googled it.
Haa, interesting reads there.
********
Teochew porridge was smth me and Dear love!
so we decided to go for a Teochew Buffet dinner at the Windsor Hotel along Macpherson Road.
Reviews has it that it is value-for money.
So we went ahead.
Time stated on the menu was buffet starts at 5PM.
we reached at 5pm and the waiter ignored us.
the food wasn't ready yet, not all.
we started on the porridge and preserved stuff.
the main dishes consisted of fried noodles, fish, prawns, green veg, cabbage, egg, braised pork, toufu, chicken and pork.
i dun particularly like them, but it was edible.
desserts was ice-cream and fruits(which Dear cant even force himself to swallow)..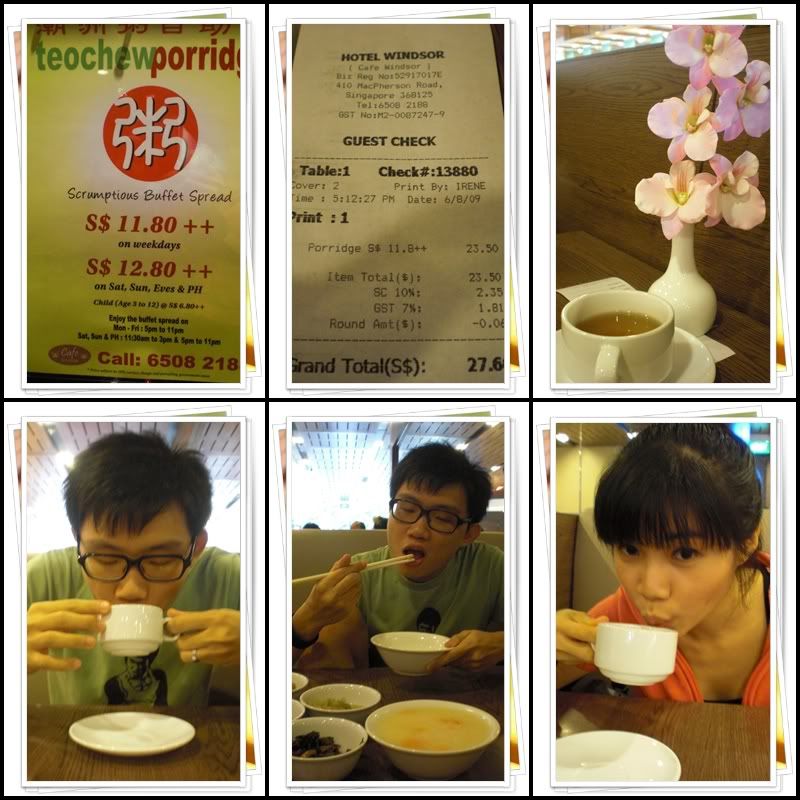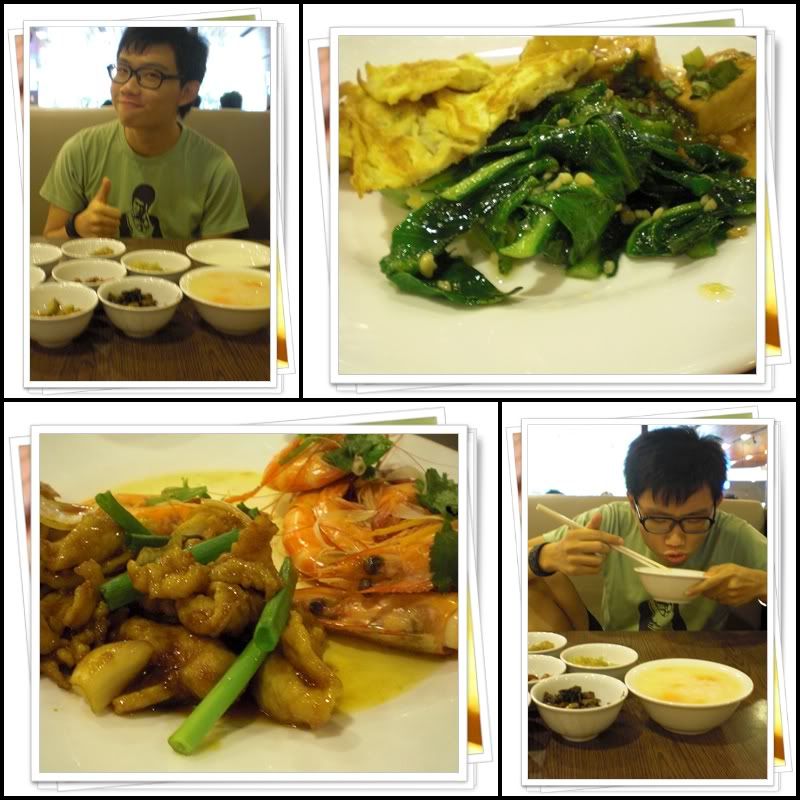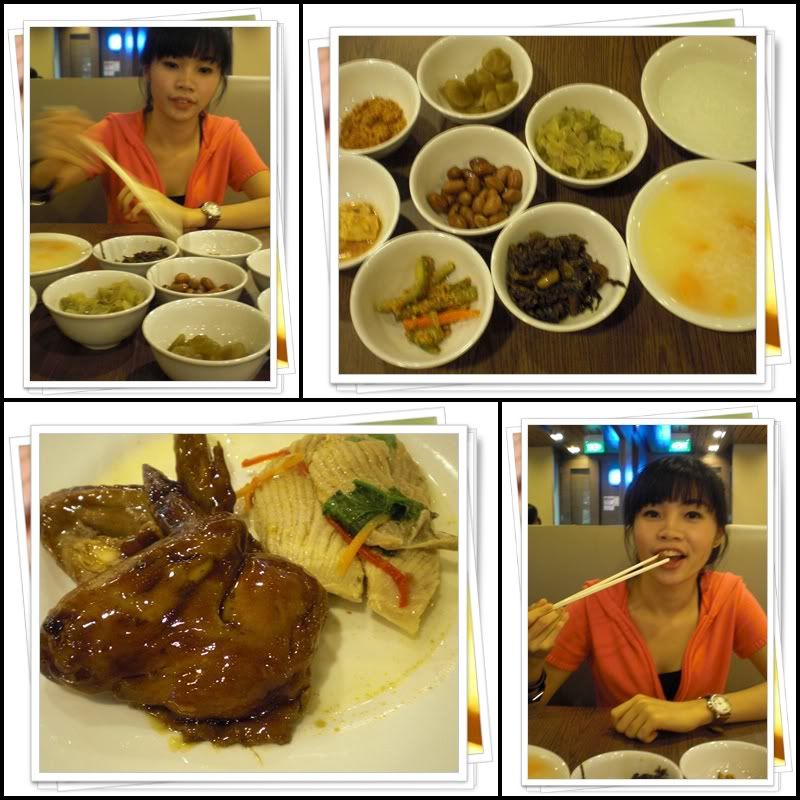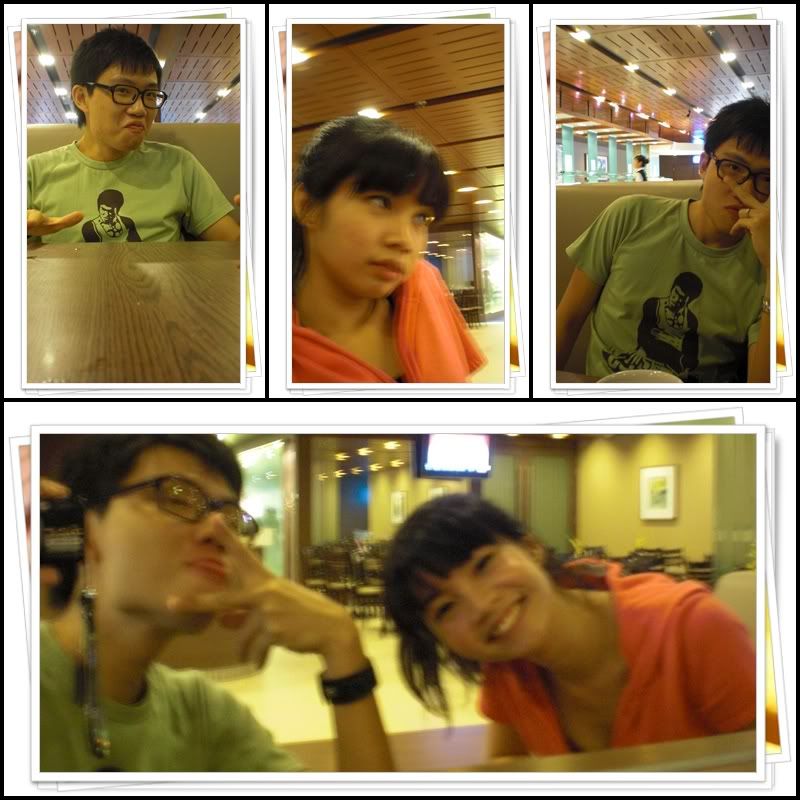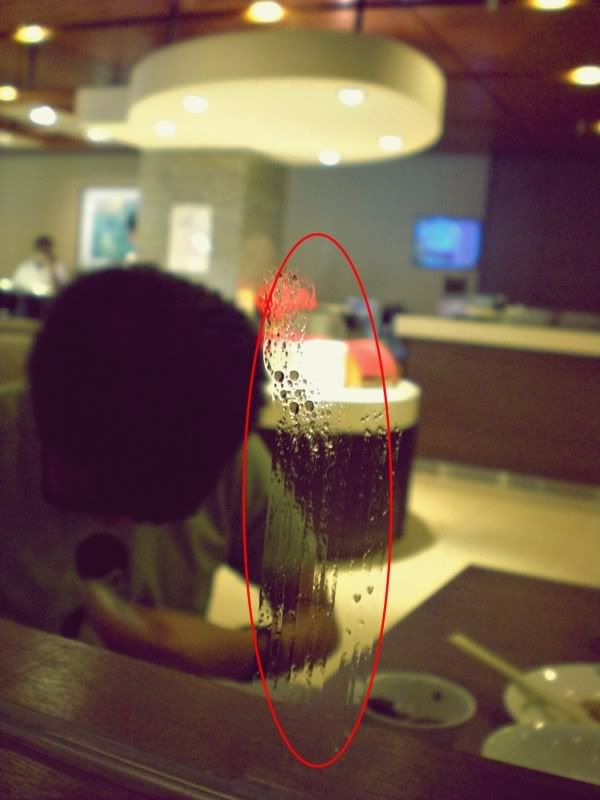 Dear created this er-xin stain on the mirror while plucking prawns!
Grossss, hope the waiter wipes it off..
unsightly!
Learn the cutery de-shelling method I taught you Dear!
Haaaa, I am so tired already.
Managed to squeeze some energy to blog.
I am offfie to bed.

still playing now:




-the end-
a.Von

♥ UncleDon & AuntieVon Scribbled ♥


Wednesday, August 5, 2009
Whoa, been a while since i last blog.
Had some problem with my blogger, apparently its something to do with Singtel Proxy thingy.
Thank god for google!
Well to be honest, Createbox seemed to be like a total failure haha..it kinda suck and disappointing though..Anyway i will not talk about it here, somethings are better left unshared.
Will be doing a fresh new project for fun. Take a break from trying to be a successful entrepreneur and just do what i like (:
bah lost touch in blogging.
im out of here.
♥ UncleDon & AuntieVon Scribbled ♥


managed to get off the hook to go lab this week,
so at least I get to relaxed for that very bit until school starts next week.

went shopping with Dear yesterday.
He wanted to get himself a mouse and also some berms for school start..
While I just wanted to get the fun of shopping and buy on impulse lol..
I am trying to control ok..

So we headed to bugis where we got Dear two similar looking berms, cheap at only 2 for $25.
and the stall tenders were 2 brothers who look so much alike that I mistaken them one for another while Dear was changing.
no wonder he gave me such a quizzical look.
he had absolutely no idea what was i talking about cos I was talking to the wrong guy LOL..

I bot my loafers! like finally..
they were a great deal cheap!
Love it!
can wear them to lab as well cos it's all covered!
so excited that I did a set on Polyvore!
haaaa!


it's back to school
by
auntievon
featuring
Dorothy Perkins
yup and I also bot that zip top at BV. cheap too!
Got a grey one instead of the black one featured!
Asolute love the slouchy cut!
I am into baggy wear, dun like tight stuff..
makes m uncomfortable.
when I am slimmer I will go back to figure huggin' again..
had dinner at AMK Mac's
think me and Dear got
featured
caught on camara as there was filming going on..
oh dear, maybe we are caught on some drama WAHAAA,
dun think so much dun think so much Von.
**********
sales at The CreateBox haven been fantastic except for the sales we are getting from friends.
I really dunno what's wrong.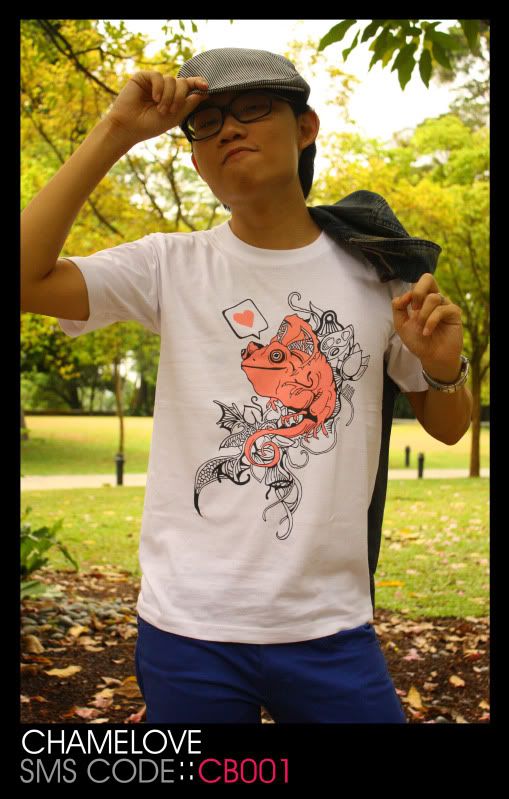 this is really my favourite!
The CreateBox now is having this promotion:
where else can you get such a good deal?
but apparently, it doesn't appeal to the masses.
it's either the designs or the price.
Since ppl hve been telling us that the designs are nice,
we assume it's the price!
so here we are bringing the price down by a WHOOOPING S$4.90!
but let's face it, SG ppl are brand conscious and fashion FOLLOWERS.
they follow ppl's fashion and they buy branded.
No BRAND No Talk.
Talk about our fashion sense, we follow.
I mean no problem with that, I follow too you know!
But can't we have a little support for our Made-In-Singapore Brand?
It hurts when you know nobody supports you purely on the fact that you are a
NOBODY
!
throw that in your face!
Come back to look for me when you are an established Brand, and when ppl are already wearing your stuff, then I will consider buying you now..
For now, I can remain contented with my Branded labels.
Ya right! I say,
"it's a
pity
you dun noe how to appreciate the good stuff in life."
The CreateBox will still be bringing in more stuff.
We will not be detered!!
*********
outing got cancelled today,
so I stayed home to clean out my wardrobe and also my MESSSSSSSSSY table!
well it's a practice i practise every time just before school starts..
i cleaned out a whole bag of unwanted clothings.
Mostly Old/out-of-fashion/lost interest in them.
stuffing them into the store room to make way, less my mother complains again..
My t60 is now out on the living room coffee table for common use.
I am ULTRA happy with my new X200 laptop!
It's like a baby...
It's good money spent, and it was hard to save up for it!
oh did I mention that I was Ultra-happy?
HAHHAHA!
********
national day is just round the corner.
I like it cos Dear always comes over for a feast that my mama will prepare.
and we will watch the parade and eat together..
we will always have fun laughing at the VIPS take their seats and also have a discussion on the military stuff!
it's like a nice reunion.
But sadly, after National day, schools starting..
Hopefully I can manage with the FYP wich seems like very hard..
"you may be asked any questions however remotely it is related to your project"
this is freakingly scary man!
my whole undergraduate career is staking on this!!!
ARGHHHHHH...
A man has got to do what he gotta do!
you either die in the battle or die fighting the battle!
i hope i survive it..
dancing to the tune of MC Mong:
-the end-
a.Von
♥ UncleDon & AuntieVon Scribbled ♥


Sunday, August 2, 2009
u.Don haven really been able to blog these days cos of some error on his IE..

wonder what's the problem..
so, if you had rmbered from the previous post, u.Don had a little surprise for me!
it was a handmade ring! filled with a table of sushi and also an ornament of green (my fav colour!)
so why was this done? it wasn't really new, u.Don had done a box of miniature food for me 2 yrs ago for V. day for me.. it looked like this!
anyways, u.Don managed to get his hands on some really expensive clay..
or so he told me to NOT waste any, and he chided me for dropping them on the floor.
oh wells and with baby oil and what nots..
it was a tedious process..
he created this lovelies from his artistic hands and hand-painted them..
it was really fun to sculp this little things but it's really hardwork..
the smaller it is, the harder it gets!
I had the ever great job of glazing the soon-to-be finished product!
and ta-da!!!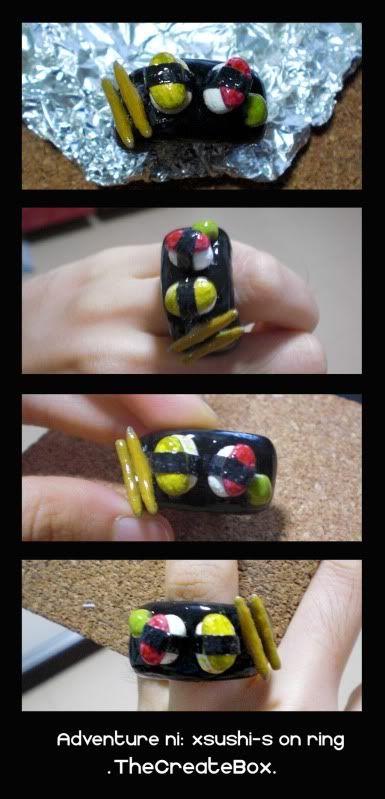 psst: this was done in effort to NOT waste clay... cos i spoilt some of dear's clay..
Dear also made a remodel of the Mousehunt's mouse! It looks so cool!
You have got some cool moves there babe!!! YEA!
*******
hope you guys enjoy the clay sculpting we did!
I have finally decided on my new laptop baby!
decided not to get the S10 netbook, probably too small and too lag to run all my multi-tasking applications!
so I decided to get back my good old LENOVO!
although it's not really pretty and stylish, but I like it for it's matt and traditional look.
I am so happy and can't wait to get her!
She's the Lenovo Thinkpad series X200!
It's a nice deal to get it for SGD1,999..
a lil hefty sum there but Dear says it's definitely a GOOD DEAL!
It weighs only 1.7kg with 6 cell battery and only 12.1" screen!
Ultra-portable I tell you..
plus I get a FREE 4GB upgrade and a FREE external DVD drive!
Now I can bring her to school easily!
Only draw back is the lack of a touch-pad, so I gotta get used to the touch point or use a mouse!
But I am just glad to be able to get a new laptop! with a battery pls!
my current one is battery deficient, what good is a laptop without a battery!
*rolls eye*
now my three yr laptop can retire and become my home desktop..!
my new babe!
tmr's the boring orientation for Yr 4..
really dun understand why a Yr 4 needs orientation! argh!!!
gotta wake up so early!!!
better be going to sleep

a.Von
-the end-

♥ UncleDon & AuntieVon Scribbled ♥


Saturday, August 1, 2009
best thing in life - spending quality time with Dear.

even with no elaborate feast, fantastic outings, the time will always be well spent and memories remembered...

**********

my printer died on me. finally bot one from Courts. No more HP for me, Brother is the way to go, with some third-party ink hahaaaa can save money!

Finally sem is starting, already fed up with my laptop. So i have finally saved up for it. A new one!
Haven really decided which to go, but shall get one with a 12.1" screen, so that I can bring to sch everyday! Something light and portable.!
u.Don has advised me against a netbook. Cos it would be slow to run PS and applications espcially when I do multi-tasking.
Probably too used to Intel Centrino Duo Core to get used to a Intel Atom lol.
So with the recent National Day, there are bound to be some sort of promotions.
Hopefully I can decide soon enuff which to get.

Bobbin' ma head to this song:



heading over to Dear's house for dinner.
and he has a surprise for me!
excited!!!
wheeeeeeee

a.Von

♥ UncleDon & AuntieVon Scribbled ♥