Saturday, March 29, 2008
Went prawning with dear today at Bishan.
Rented one rod and paid $30 to prawn for 3 hours.
dear managed to hook up the first prawn in less than 15mins.(she is the prawn attractor).
Next up it was me..whaha i caught a female prawn with eggs! though its a bit small as compared to dear's haul.
The last prawn was the luckiest catch of all by my beloved dear, the prawn was not even hooked. It held on the bait with its pincers and followed it out of the water.
It started to rain and for the rest of the time left we did not catch any..many bites but none took the bait.
We took the prawns home, decided to keep them alive..
Sadly, 2 of the prawns did not make it and we managed to keep one of them alive.
Fun day..we might go prawning again ya..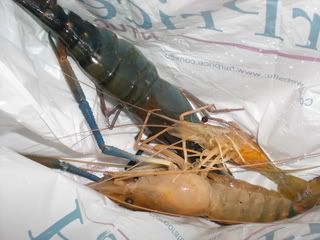 Catch of da day...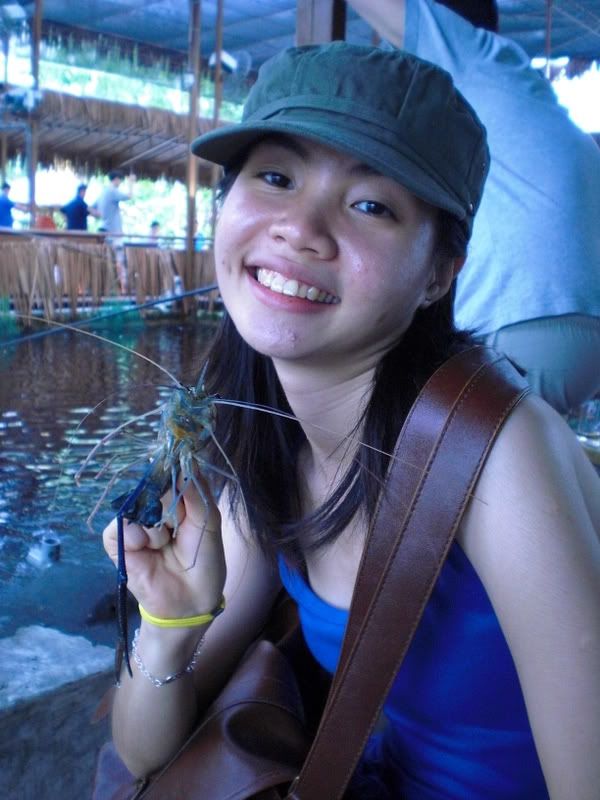 Dear's big prawn (ya she caught 2 big prawnS today, stop boasting!)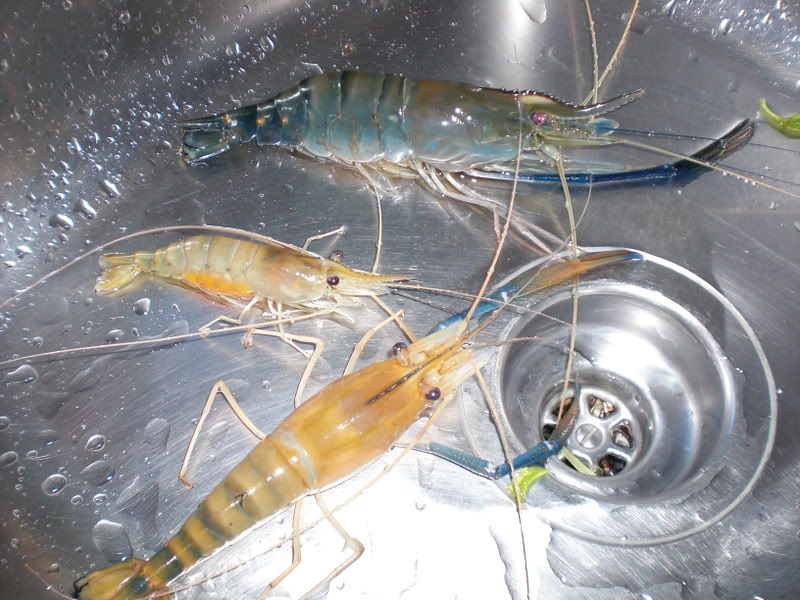 Prawns in my sink!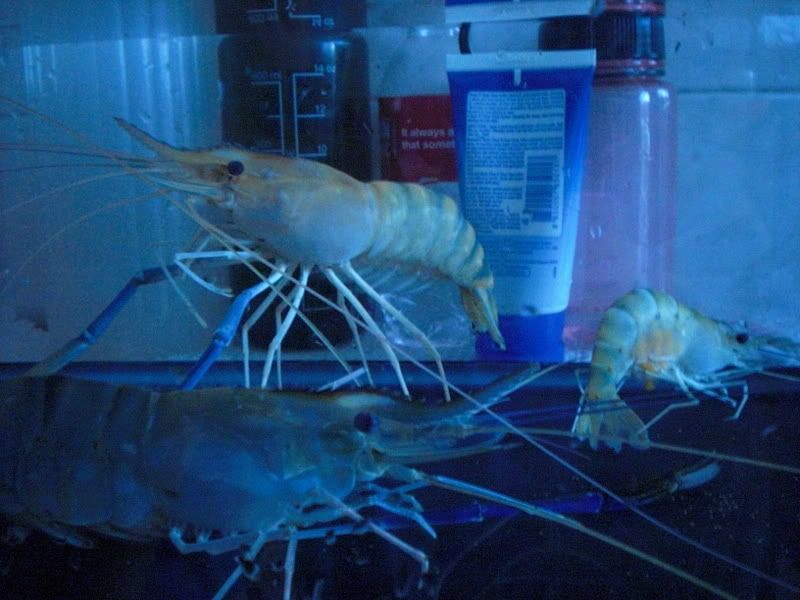 The healthy prawn that wasn't hooked.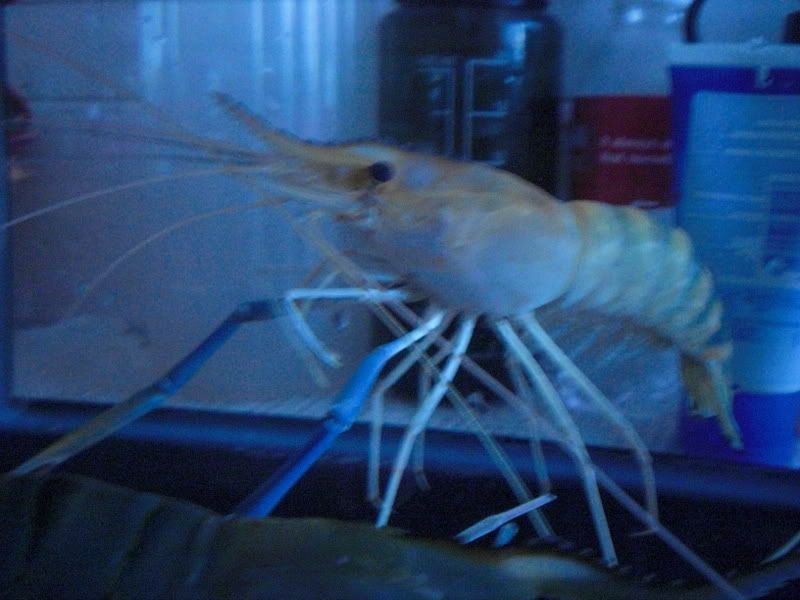 Prawn in my tank.
Us fooling around with mickey mouse hand in my room! Oh so blue.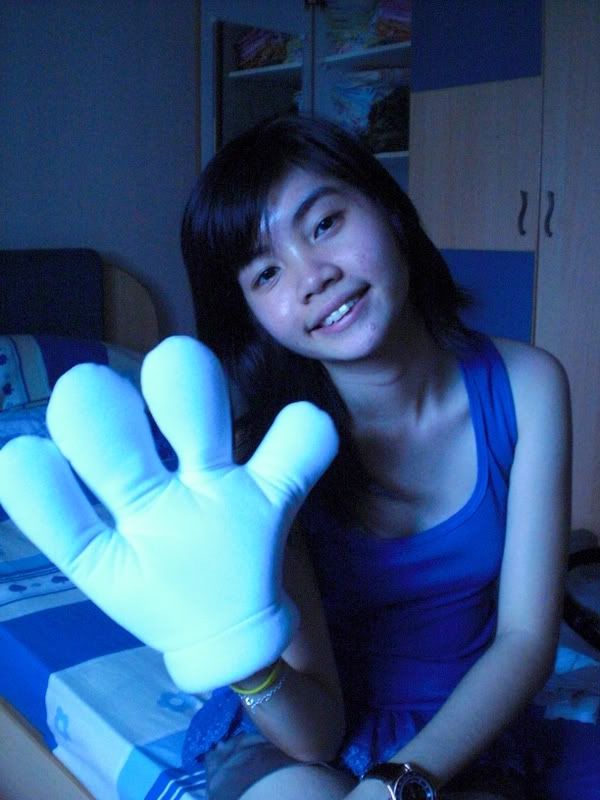 Dear with mickey mouse hand!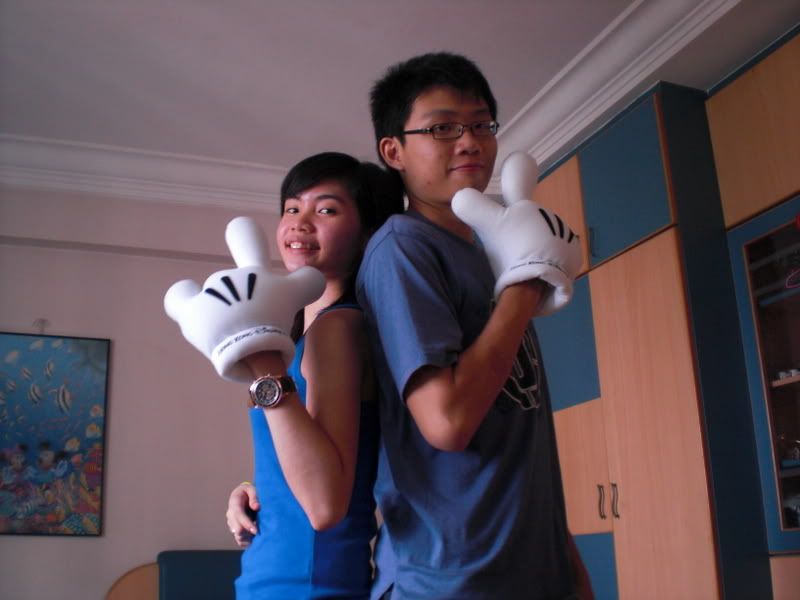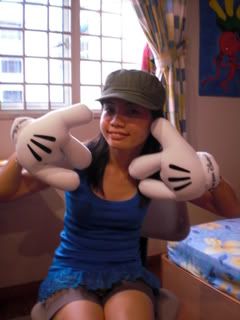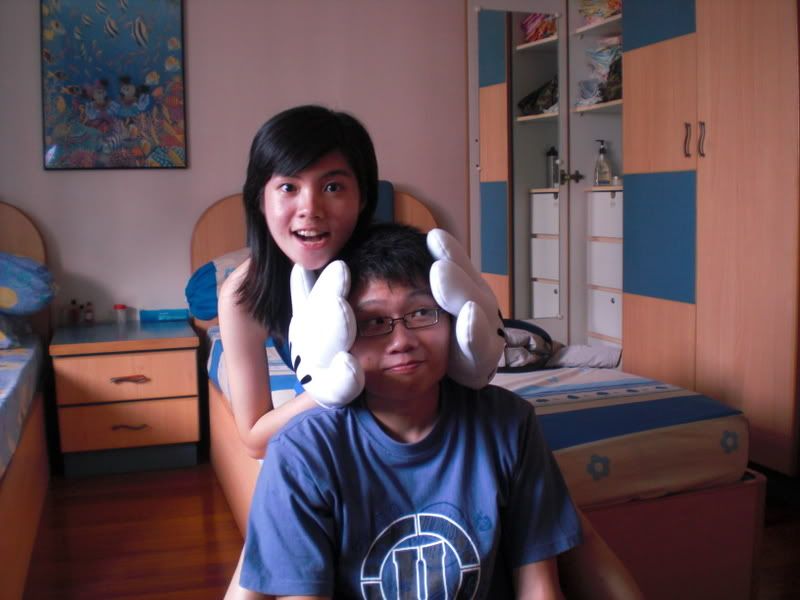 ♥ UncleDon & AuntieVon Scribbled ♥


Wednesday, March 26, 2008
Ok firstly i would like to thank my dear for hogging the space on our blog! Now i got to post the pics for my hongkong trip on some random date.
21 / 03 /08 : First day in Hongkong.
I'll let the pictures tell the story ya!
My thoughts are:
- T3 is huge and clean
- T3's toilet is damn cool. For guys you got to aim at the housefly in the urinal. For girls i guess you just have to remain seated.
- Hongkong's night life is very fun. Shopping centres/streets open for operation till 2-3 am in the morning.
- The food there is delicious. Wanton mee for example is off the hook. Think 3 prawns wrapped in a single wanton.
- Street side food stalls are available.
- yes you can shop till you drop and then do it again the next day.
- Ladies Market sells real cheap stuff and is like bugis street
- There is a street selling electronics stuff beside Ladies Market thats like Sim Lim street style
- Beside Ladies Market is another street selling shoes/sneakers thats like Queensway with a lil less sports shoes and very much more sneakers.
i'll post more pic in another post..watch this space.
♥ UncleDon & AuntieVon Scribbled ♥


me posing with a perfect blue screen...
the look was completed with the canto-speaking mickey and ever-soft leather bag from Hong Kong..
look at my splendid smile - YES! I am indeed happy and blissed!
Love you honey!
-von
♥ UncleDon & AuntieVon Scribbled ♥


Tuesday, March 25, 2008
haPpY bIrthdAy to ME!!!!!!!!!!!!!!!!!!!1
-v0n
♥ UncleDon & AuntieVon Scribbled ♥


Friday, March 21, 2008
Yesterday was one of my most memorable days of my life..
and I have many people to thank for that..
First I have to thank my parents for sponsoring party..
Next I have to thank dear for helping me design and make my birthday invitation card..and helping my rip mp3 music for the background..
To all my friends who gave up their precious time to shop for my gifts and attend my party..
to Ming hui who helped my cut my birthday cake..
to the people who helped my take photos at the party..
I hope everyone had great fun at the party!!
Once again --- A Big THANK YOU!!!
Muacks I lOVE you peeps~~
the photos are below...
♥ UncleDon & AuntieVon Scribbled ♥


Thursday, March 20, 2008
Im flying off to Hongkong tomorrow on a family vacation trip. Yup.
Not really feeling very excited about it though, i'll try to get it to the mood tomorrow.
Got to thank dear for coming over tonight for dinner and help me pack some of my stuff. Hope the songs that you "stole" are of your likings yea.
To those going to Evonne's birthday party tomorrow, have fun ya. Please write a lil more stuff in the guestbook which she spent a lot of effort putting it together.
Dear have fun at the party and await my return ya..
Happy 3 years n 4 months.
-don
♥ UncleDon & AuntieVon Scribbled ♥


Monday, March 17, 2008
Thanks honey for the birthday gift - a N81 phone!!
love it and will treasure it..
love you too!!
♥ UncleDon & AuntieVon Scribbled ♥


Saturday, March 15, 2008



NOTE: pls click on it to get a better view of the words. I am unable to enlarge it or it will appear very pixled..

My birthday invitation, have decided not to print it since ppl who are invited visit my blog so very often!
and the design of the card looks better without me printing it out on my lousy printer!

getting there is easy, just take MRT and alight at buona vista, take bus 95 from the bus stop nearest to the MRT station( dun have to cross any road), alight in front of Coffee Club.. yupz!

so here are the names of the invited guests!

(names are not in any particular order..)
*peiqi
*jialing
*sinli
*jingyeen
*johnson
*wenting
*arthur
*darence
*jing ying
*belinda
*beng hwei
*khee gueun
*kenny
*jun xiang
*ning xi
*yu rong
*lyndia
*felicia
*jeremy

-von



♥ UncleDon & AuntieVon Scribbled ♥



Thursday, March 13, 2008


I guess everyone is feeling down and low lately ya? well at least my dear is... if only i can be there to suffer with you in school.. hmm anyway i found this shit, hope it will cheer you (or anyone else), somehow.

Its Count Dracula from Sesame Street



Sesame Street..not so innocent afterall huh.



♥ UncleDon & AuntieVon Scribbled ♥



Monday, March 10, 2008



there there..

that's my name..


it is being made using red laser diode shining @ app. 560nm...
the material is an array of carbon nanotubes on a silicon substrate..
the scale of the image is app. 10microns..
pretty cool huh...





♥ UncleDon & AuntieVon Scribbled ♥



Sunday, March 9, 2008





Got to thank dear for beautifying our blog with our pictures.
Now at least the right side of our blog does not look so empty.

I watched 10,000 BC today with my bro. No we did not go to the cinema together.That would be gay. We buffed it of the internet. Well in my opinion its a 2/5 show. Action was so-so with predictable results.

The ending made our day today. For those who have watched it, the main girl character kinda got shot by an arrow and

kinda

died. At this point i told my bro: "you know what, the best if she revived right now"
Damn right she did and they lived happily ever after. Not cool.


-Don



♥ UncleDon & AuntieVon Scribbled ♥



Saturday, March 8, 2008




chose a nice skin and thought of a nice name..




ta--da!!


our new home for

sweet

and

romantic

memories..


a place for us to share our fun times and bad times..


a site where we find

comfort

and

familiarity

..
let those who visit - be embraced in the feeling of

LOVE

!

-Von




♥ UncleDon & AuntieVon Scribbled ♥




Dear suggested us to get our "couple" blog. So we did. This blog has a very nice name in my opinion. Uncle Don and Auntie Von. wow. so couplely.
Yea. So i guess we will be maintaining this as a couple.
Right dear?

I did your invitation card for your birthday party which i will never get to attend ):
Will show you when you are online.




- Don





♥ UncleDon & AuntieVon Scribbled ♥