Monday, February 23, 2009
About Day out with two fellow Chemists!!
Day to buy my formal wear at Bugis..
Haha, after a walk around Bugis Village, the three of us had to leave hastily to prevent ourselves from spending MORE money..
After our very budget LONG JOHN SILVER S$3.95 dinner..
we made our way to Haji Lane.
mai siao siao ok, Miss Teo was the one who lead us there...
Had our own photoshoot right there and then..
There were many on-lookers but Who Cares!
We also made our way to the ROYALLY beautiful ParkView Sqaure..
Night has fallen and all the more, it looks majestic in the dark..
And so I shall let the photos do the explanation as to why we got so many stares..
*At ParkView - isn't the statues magnificant?*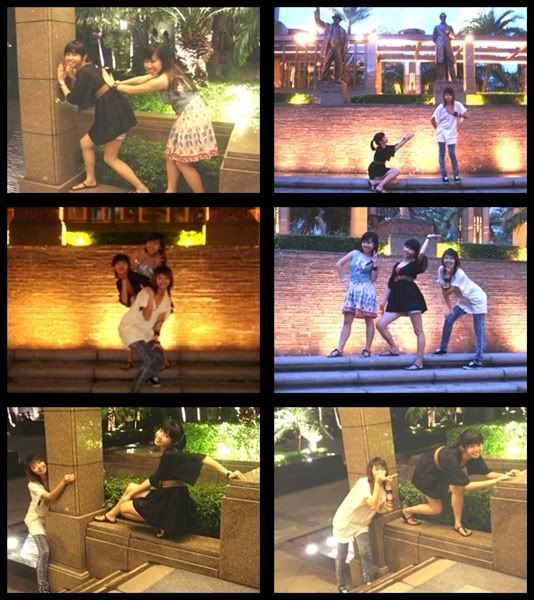 *More of our stupid poses; take note of the 3rd pic on the right and u will see 3 SEXY ladies..*
*At Haji Lane - us strutting our best poses in the middle of the road*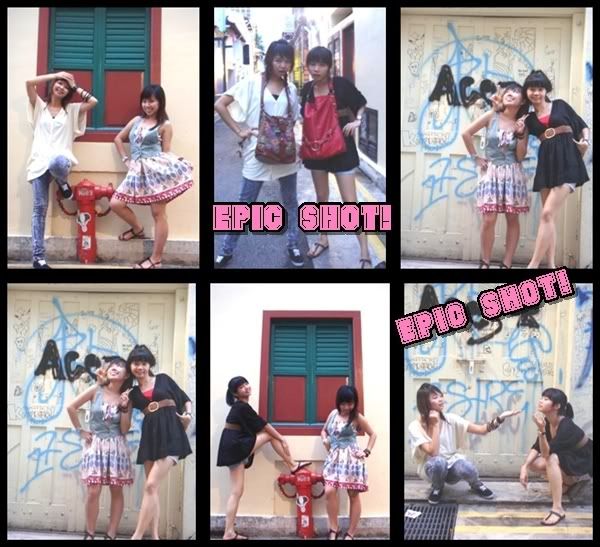 *At Haji Lane - some of the old shophouses*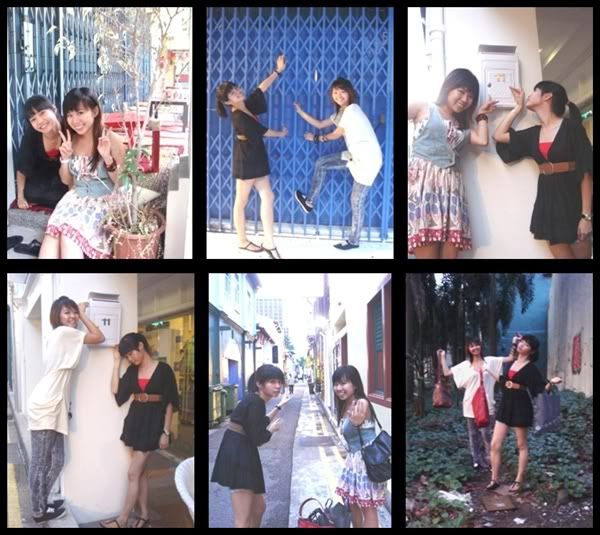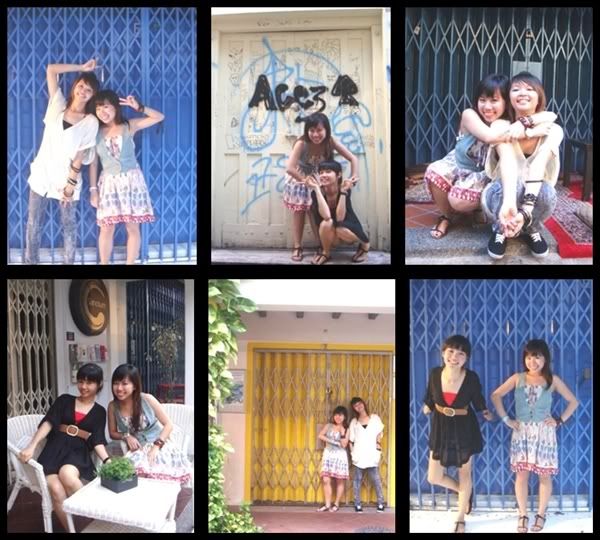 Woot* It was fun all in all!
Away from all the constraints we had when doing GlamRags photoshoot!
Way to go girls!
Enjoy your holidays~
Meanwhile.....
***********************************************************************
UncleDon is still slogging through the minor..
poor thing..
JIAYOU JIAYOU JIAYOU!!
♥ UncleDon & AuntieVon Scribbled ♥


Saturday, February 14, 2009
About The Best Valentines' Day ever - 140209
This years valentines' day had two parts to it,
Part 1 was on Friday evening, when Dear presented me with his specially ordered flowers!
They were so pretty!
I love them!!
Following which we headed to the Army Market for a simple fare of dinner plus shopping for my backpack!
Backpack was sponsored by UncleDon!
Wheee, just a simple evening but I enjoyed it thoroughly.
Glad auntiveon loved the flowers and the balloon which was so hard to transport over due to the massive crowd in the train. The balloon kept hitting the head of the other passengers. ahha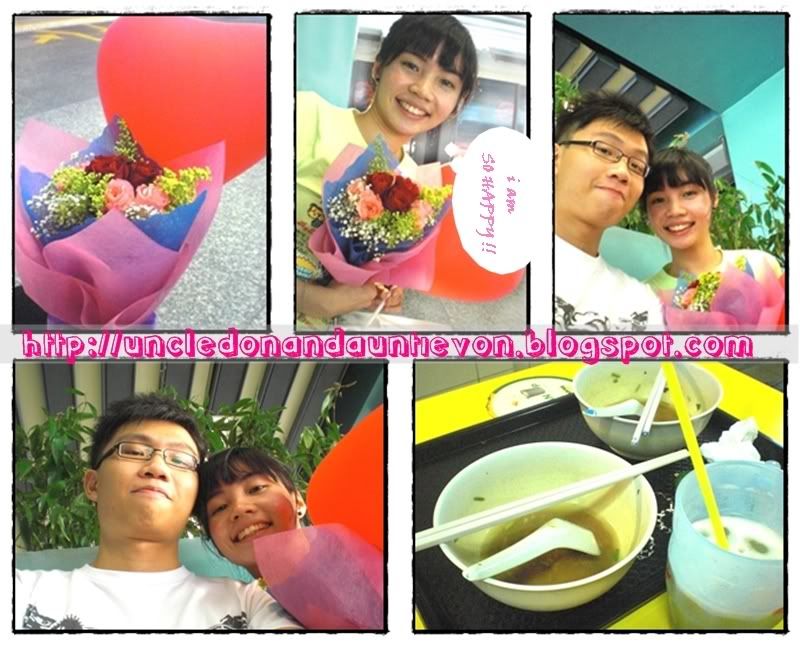 Part 2 was Saturday evening!
We had our romantic bbq at the Labrador Nature Reserve!
Before that, we did shopping at Giant Vivomart!
I shall leave UncleDon to describe our shopping experience...
We bought our stuff to bbq: 1 pax chicken drumlets, 1 pax chicken wings, 1 pax corn, 1 pax beef, 1 pax hotdog, 1 pax sotong balls and sweet potato. Auntievon is so auntish at choosing sweet potatoes. I guess i stood there for like half an hour while she chose the best. We threw a $8 plus salmon at some corner of Giant as it was too expensive!
We lugged all our barang barang to Labrador..
The scenery was awesome!
we wasted no time and UncleDon quickly got the fired started while I got the food marinated!!
I was really a wise choice to buy the more expensive marinade!!
Made our chicken wings taste really high class!!

During dinner, I presented UncleDon with a surprise!
Just a keychain that I tot is rather cute to go with our backpacks!
Thanks for the keychain and the handmade card dear. I guess i will be known as "ED"

As we enjoyed the sea view and cool breeze at our dinner table,
we took some photos!
Check out our food!!
We have Chicken Wings, Drumlets, Hot Dog, Butter Corn, Sweet Potato, Cream of Mushroom soup, Shabu-Shabu beef!!
The corn is the best lo! and the Hot hot cream of mushroom soup! so clever of us to send it boiling using the charcoal!
I thought it was already quite a spread for the two of us!
After dinner, we cleared up all the stuff and turned the tablecloth into a poncho..
laid it on the grass and relaxed..
Definitely a very nice way of spending the night..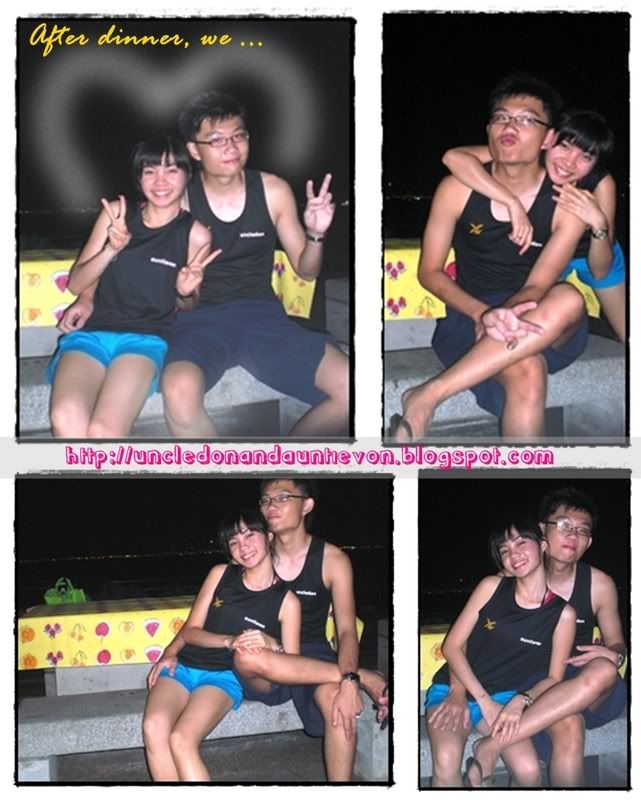 We hope you have also enjoyed Valentines' Day like we did..
Signing out is
UncleDon
&
AuntieVon
.
♥ UncleDon & AuntieVon Scribbled ♥


Sunday, February 8, 2009
National Vertical Marathon
8th Feb finally come, the day where we will climb Republic Plaza.
This plaza along Cecil Street:
Race details:
Climb up 60 stories of this building without fainting, puking, crying, cramping or any of those other nonsense.
This is UncleDon's first Vertical challenge!
We happily joined the Lover's Challenge category!
Honestly, with my past experience of Swissotel Vertical Marathon,
this one is tougher!
Albeit lesser stories, it seem harder to climb cos the number of steps were more!!
Plus, it was different to climb alone and with UncleDon.
Climbing with UncleDon was such a pleasure,
he always stayed behind or beside me, ensuring my safety!
His hands never left my waist, where he supported me throughout the journey!
Tired and panting, both of us finally made it to the top - HAND IN HAND!!!
WHEEEEEEEEEEEEEEEEEEEEPIE!!
Totally shagged out after the climb...
As we rumaged through the goodie bag, we were pleased to find 2 tees in it!
We thought the Zuji.com tee has an innovative slogan on it,
pls see photos for reference..
We just sat down at the steps where we recovered from our excited state..
Our buttocks left behind two sweat patches..
Too bad the camera couldn't capture the image..
After that, we had a mini photoshoot with the tees!! So we got 3 sets of photos as shown below!
YAY!
Intended plan was to go do some other stuff, but UncleDon say that we HAVE to succumb to our tiredness..
so we just
guai guai
headed home to rest..
This was just after the rest, we wore our Jersey for the occassion!
p.s. sweaty lehhhh... haha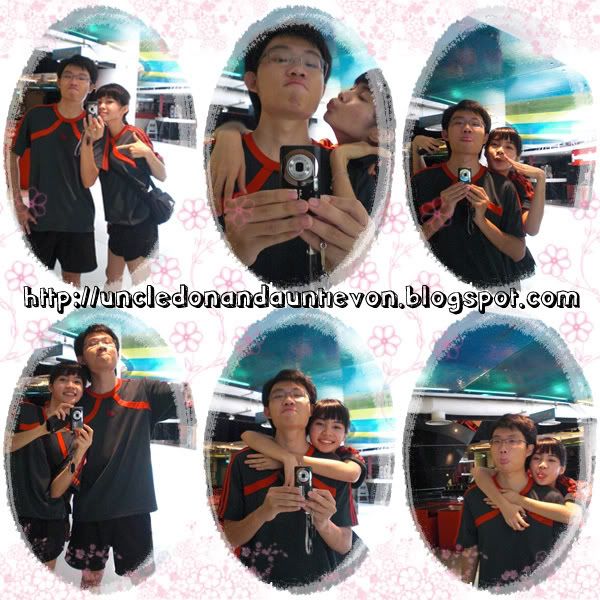 This is the Zuji.com tee we were talking about..
Cool right?
The front says "Free Size", and the back says "Holidays come in different sizes", with the size of your tee shirt in
giant
lettering!!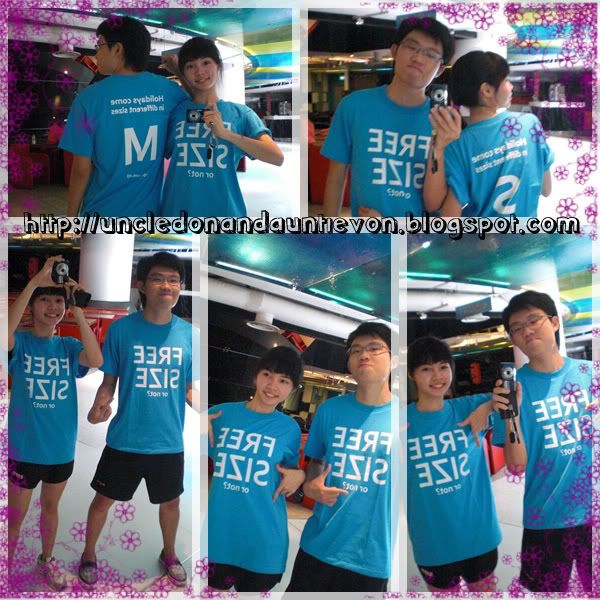 This is the Official event tee! UncleDon loves to cover his face with the free frisbee given..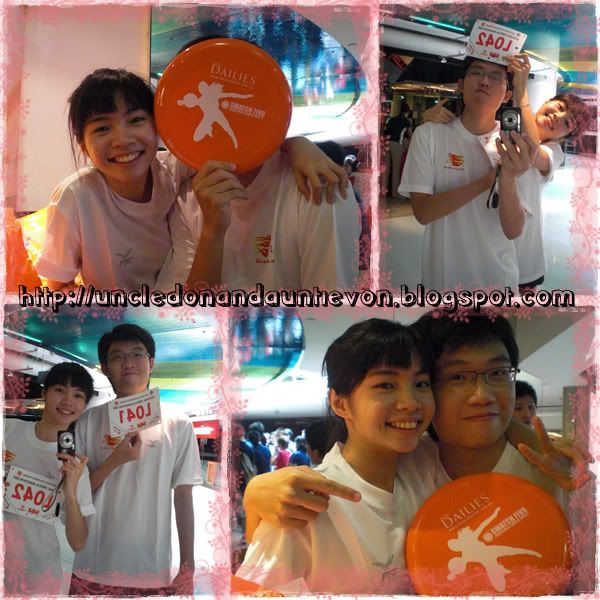 We are SO going to join again next year right UncleDon?
Thanks for the eventful day once again..
♥ UncleDon & AuntieVon Scribbled ♥