Monday, June 29, 2009
Finally went to watch Transformers: The Revenge of the Fallen today!
I thought it was a great show!
Absolutely love all the transforming and the freaking funny speech..
Despite being a weekday, it was full house for the show!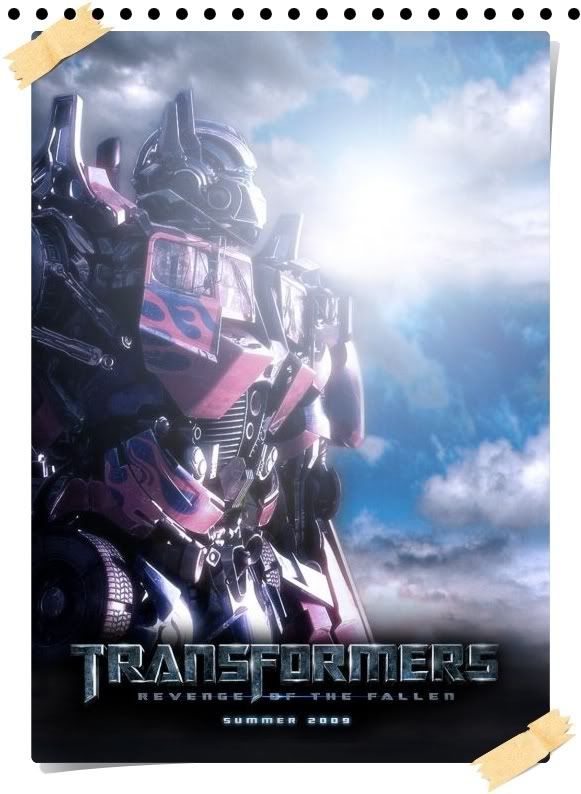 Before the show, me & Dear wanted to kill some time..
so He suggested to go arcade to play this gaming machine that got a lot a lot alot a lot of menthos!
you noe the one that pushes the mentos forward?? yup that's it!
apparently, he went with his gang to play this game and caught me 2 cute little elmos!
imagine a whole gang of 22 year old guys crowding around the machine to catch elmos..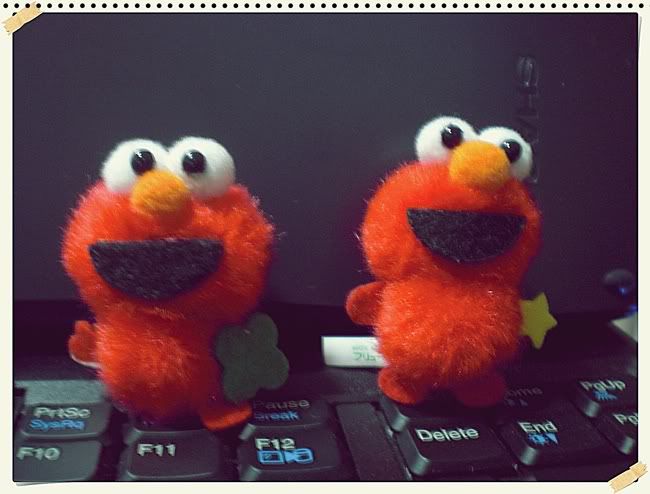 So we went, and ta-da!
based on my winning skills, I caught us a pair!
Wahaha!! flaunting this right in Dear's face!
I am so happy!
First time so zhun!!
Mai siao siao, Dear said I was born to do this ahaaaa!!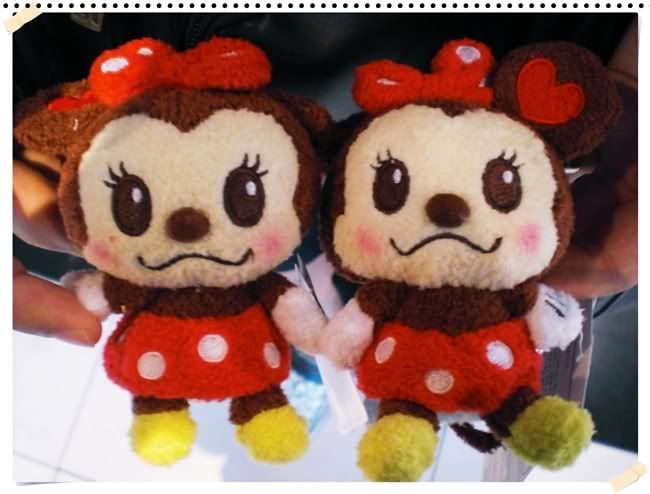 Recently, whenever I was cooped up at home, drama was my best companion..
So up till now, I have completed several dramas..
As I was uploading the pics, realised that I really watched dramas from all countries..
LOL, dramas are addictive and I wanna watch more more MOre!!
Taiwanese - Love or Bread: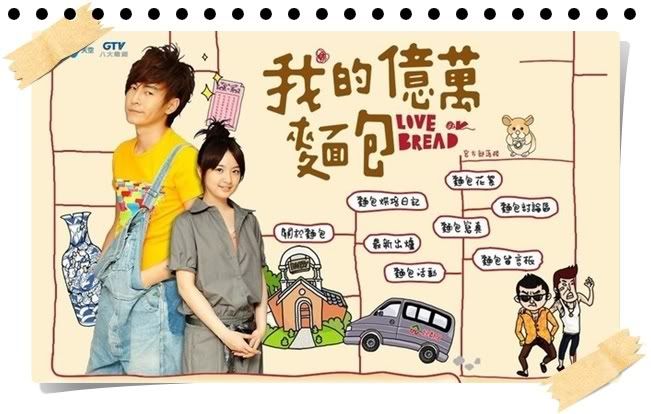 Korean - Gourmet: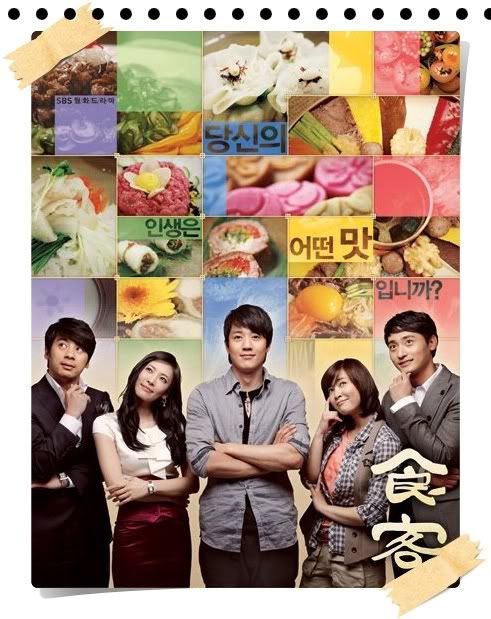 Japanese - Zettai Kareshi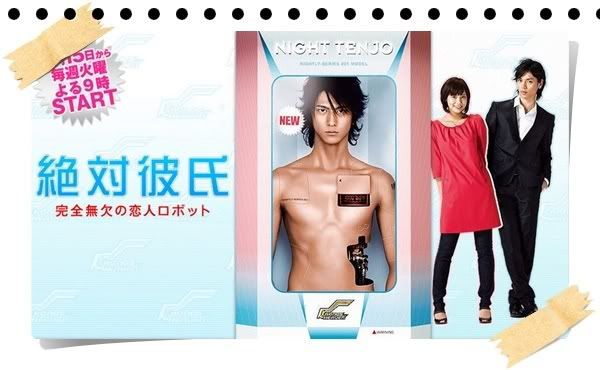 Hong Kong - When easternly showers fall on the Sunny West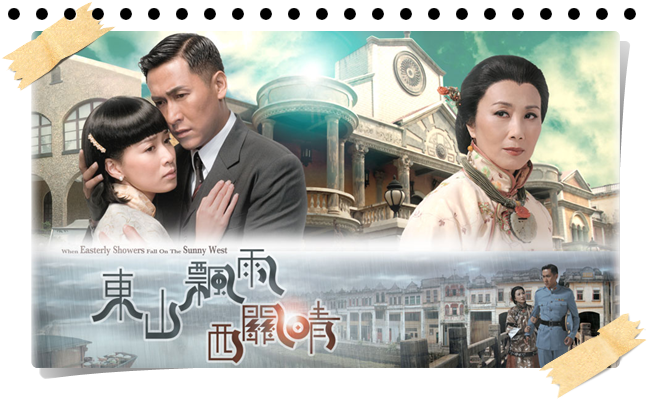 Korean - Likeable or Not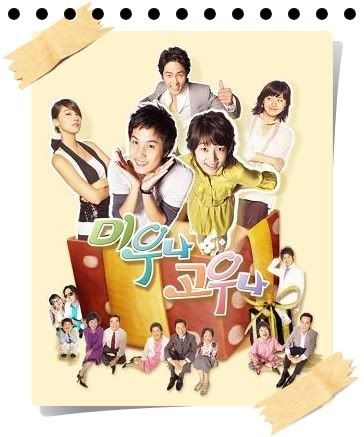 Hong Kong - A Journey called Life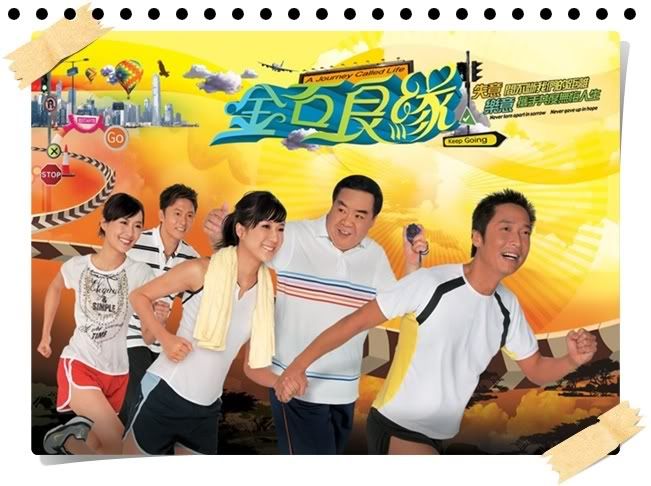 very sadly, I found 2 strands of white hair..
Dear plucked them out..
I AM SO OLD...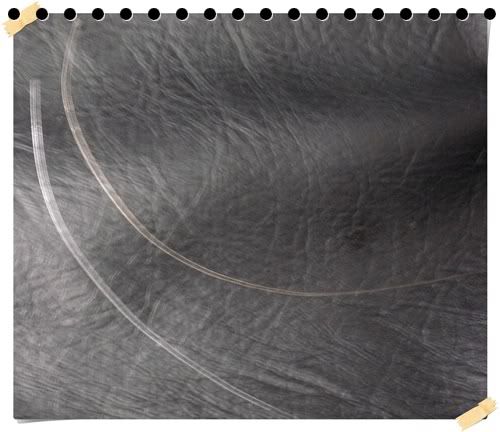 Yay, jogging tmr morning again!
auntievon
-the end-
♥ UncleDon & AuntieVon Scribbled ♥


Friday, June 26, 2009
Wake up in the morning 6 O'clock!
That's what I did today,
all to go jogging with Dear!!
Pitch black 0630 when we left, started from my house and we jogged all the way to Serangoon Stadium.!
Not too bad considering I so long never run!
But I am still tired.. from waking up so early!
But if I dun run, I will get fat!
LOL.. but after the run we had prata.
So yea, sorts of even out..
Shall do it some time again ok Dear??
Hee!
p.s.: thks for slow jogging with me.. xin ku ni le.!
♥ UncleDon & AuntieVon Scribbled ♥


u.Don & I saw the FREE Bum Boat Ride they were offering in conjunction with the Singapore River Festival..
So We thought why not?
Gotta give it a try to be a true Singaporean!
So we decided to go ahead and purchase Dear's blazer suit (it was his Birthday gift) and head down for the ride..
Thanks to the purchase, I am now an official G2000 prestige card member!
Wheepie!
I can now get my formal clothings!
So we headed down to Clark Quay to find the pier where we board..
Turns out that the FREE ride was oni like 10mins (not a full one), we felt cheated but went for it anyway..
Oni 2 rides were available: 1930 and 2030, and only available to the First 45 passengers.
Lucky we were there early! We were like the Top Ten in line!
Wheeee! Singapore Kiasu-ism syndrome..
Turns out that photo shots arent nice cos of the moving boat..
So most of our photos were blurrrrred and dark..
The river breeze and scenery was great and relaxing..
Too bad it was so short..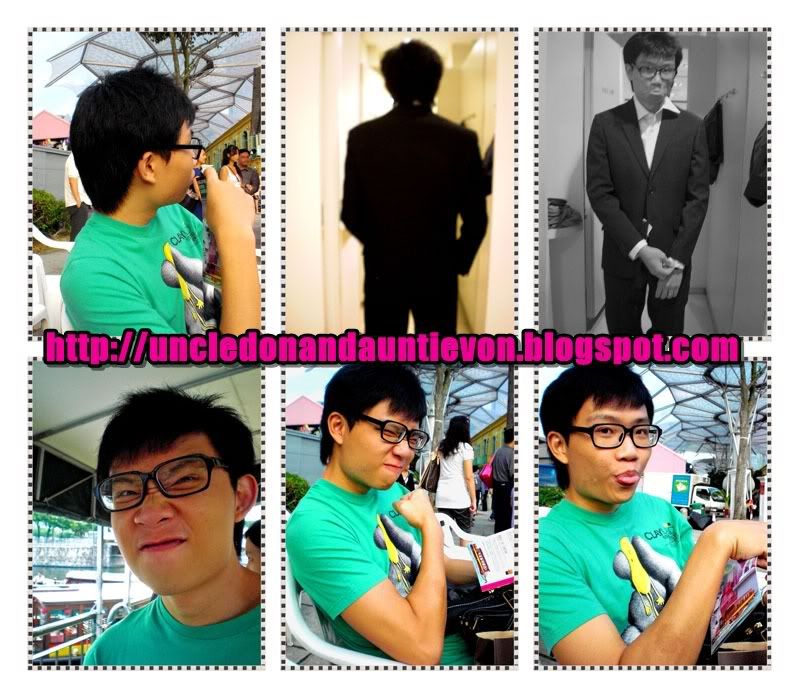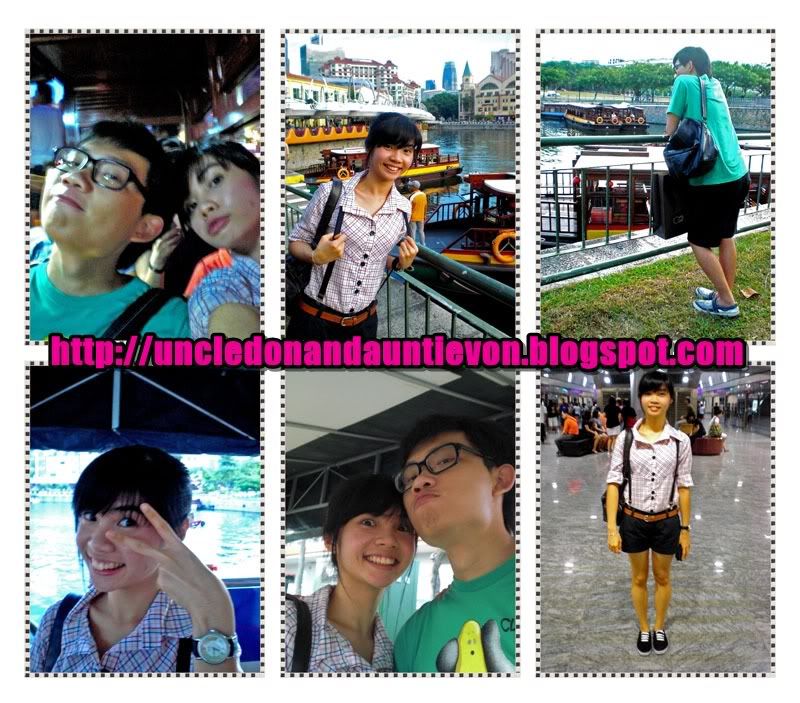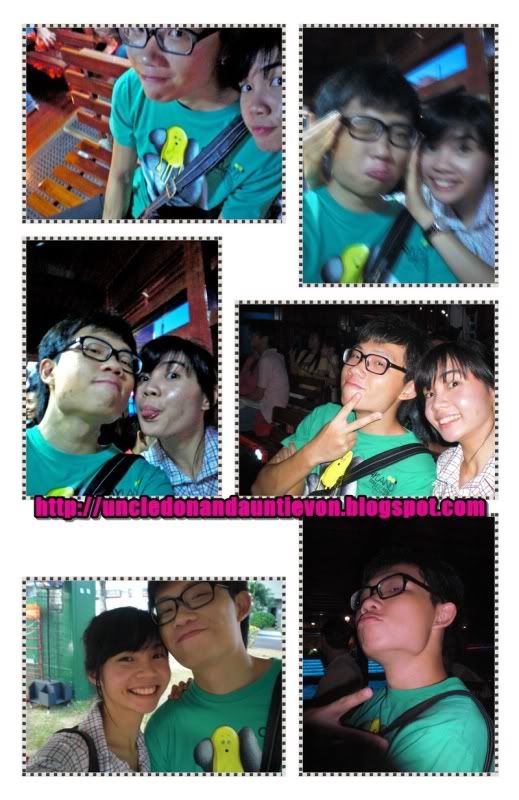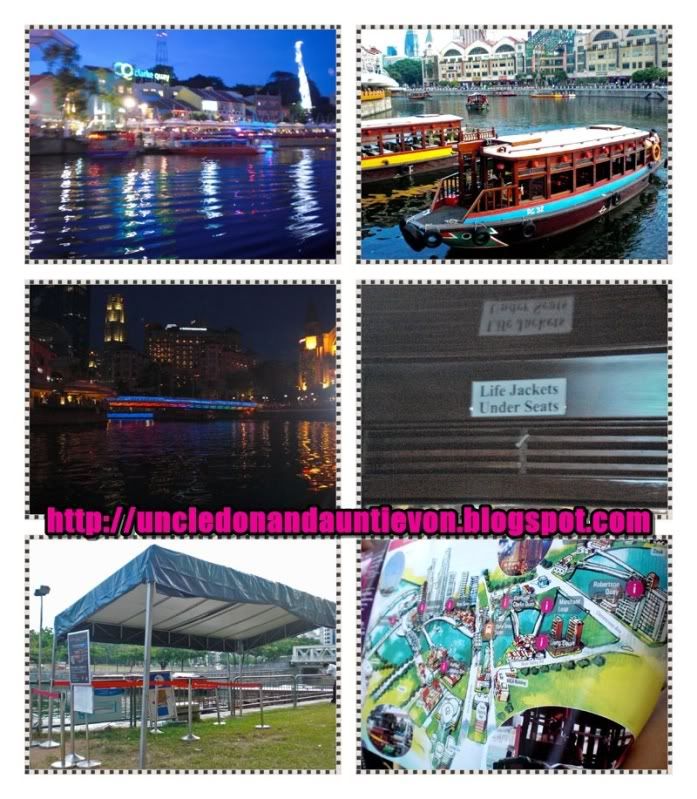 Yup so that's it!
Still it was a fun ride!
a.Von
-the end-
♥ UncleDon & AuntieVon Scribbled ♥


Thursday, June 25, 2009
Had a cooking session today with Auntievon at my house!
With Auntievon as the Head Chef, I played the role as an Assistant Chef.
Dishes for today: Katsu Curry Don with Miso Soup!
We went Hougang Point to shop for our ingredients. Saw some ingredients to make Cha Soba which Auntievon strongly objected me from buying. zzz
My role was simple..follow the head chef's instructions.
"cut the carrot"
"peel the potato"
"stir leh.."
So i was tasked to prepare the curry and Miso Soup. Which i think i pulled it off. My Miso soup is damn nice man. (Auntievon is going to inform you guys that its instant Miso Soup and probably brainless to cook it.)
Auntievon soloed frying the chicken. Great job there marinating and coating it with breaded crumbs..we sort of bought the wrong one though..bought the one for tempuras. Our Katsu looked like fried tempuras haha.
Whaaha almost had a problem with the curry as the carrots and the potatoes just won't soften enough. Well we pulled it off anyways.
Here it is.. Apologies to all for the lack of presentation. haha
Katsu Curry Don:
This is the Miso Soup prepared from scratch by Uncledon
The fail for presentation. no effort was placed in trying to make it look Japanese. (:
♥ UncleDon & AuntieVon Scribbled ♥


Tuesday, June 23, 2009
Today's outing with U.Don got cancelled cos he wasn't feeling too well..
Since my Dumpling purse, U.Don's friend has asked about the possibility of sewing a BBF bag.
So I tot since I have the time, why not get my hands busy trying one out.
Hence, I sourced out my materials and begin the pain-staking procedure..
I started at 11AM and it was completed at 6PM.
My longest project so far..
Materials include: one old blouse, scrap cloth, one old belt, one zipper, 2pcs of wire fastner, sewing machine.
From what I saw over the Net, most BBF bags manufactured by the individuals who own their own BBF are all not very pretty. Mostly vintage, and slip-shot.
For mine, it has a size of 8"x5"x5.5". Can hold my water bottle, wallet, camera, gorilla pod, coin purse, tissue. No problem at all.
If you have a BBF and want to have one done, contact me. I presume I can do it for u on a budget of $40-50. heh.
this one is for U.Don.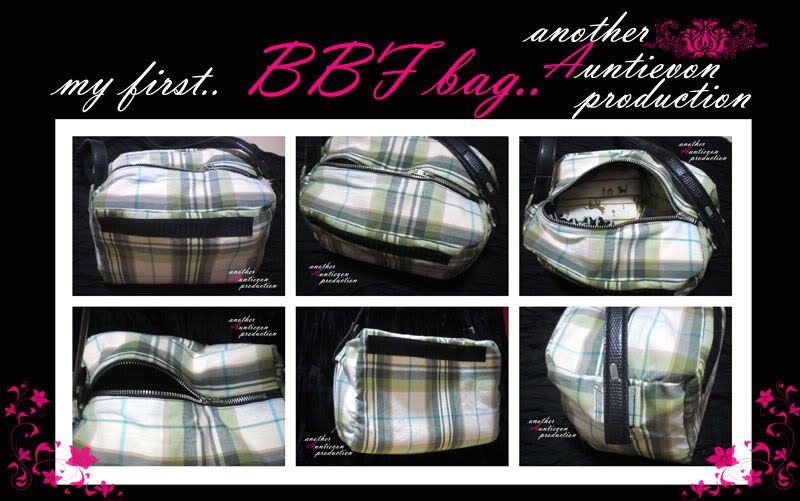 Until my next project, Enjoy.
-the end-
♥ UncleDon & AuntieVon Scribbled ♥


Monday, June 22, 2009
Feeling bored,
I decided to search for a project to embark on..
Im too lazy to improve on my prototype tank top, I need something simpler and finishable in a short time..
Browse browse browse and yup Ta-da!
I am going to make cupcakes!
ok - not bake them, but sew them.
They are good to hold my sewing pins and needles too.
Totally love it, and it's cute.
Mamee said that it was creative.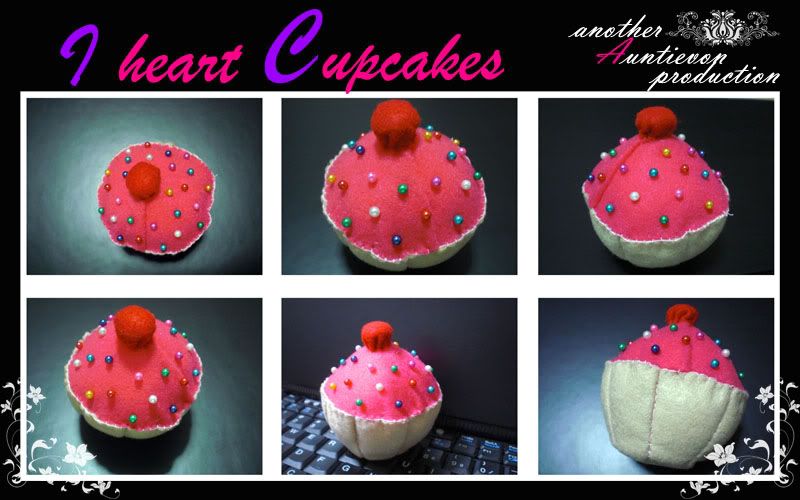 A.Von
-the end-
♥ UncleDon & AuntieVon Scribbled ♥


Saturday, June 20, 2009
On a sunny, Humid Saturday afternoon,
U.Don and A.Von took a bus from home and den a train to Ponggol Station,
a place where lands are barren and most of the activity there is construction..
there, we waited for the scheduled Free shuttle Service to the Marina Country Club..
We paid for a rod and some bait and started prawning..
Of cos, U.Don has his own way of prawning..
In between, we had a mini picnic consisting of the food we prepared in the morning..
Some Bacon wrapped quill eggs and hot dogs..
Tasty Von Specialty Sardine Sandwiches!
After 3hrs of battle, We caught a grand total of 16 prawns!
There they are, still slightly kicking in the tupperware!
Sweaty and smelly, we still cared for some photos!
Never an opportunity missed!
Double Victory for us!
And then, we had to catch the shuttle back..
Dinner was served with the steamed prawns as a dish!
Never were we so satisfied!
Shall definitely go again yo ho yo ho!
-the end-
♥ UncleDon & AuntieVon Scribbled ♥


Wednesday, June 17, 2009
It's gonna be another image heavy post here guys.

We decided to have a go at a little trekking.. All the way from NUS to Harbourfront, using the connectors that were built to facilitate this purpose.
All in all we took close to around 4Hrs odd and with the Sun beating down on us, we finally managed to do it!
All the shots here are the main Highlights of the day!
As I am blogging, my calves are still in the Ache-ing mode... Haha but I must admit that it was a great work-out and Fun-filled trip!
Foursome on the Canopy Walk to Nowhere...
A not so-short Short-cut suggested by UncleDon.. Dangerous Paths..
Water Break at the dessert-like scorching Hort Park...
We were actually like several stories above the ground.. Scary shit although we maintained our cool..
How do we know when the Branches are falling??? Cannot fathom..
A loving shot on the Henderson Waves where we chilled to our heart's content!
Lying on Henderson Waves, enjoying the cool wind from beneath..
Ran into this Monkey MaMa on the way. She was doing her breast-feeding. Let me elaborate on the story.
As this Monkey Mama was breast-feeding, there was a Monkey Papa on the road guarding. So we thought," So sweet and protective.!" But then we were so so wrong! As the Monkey MaMa got up to leave, with the Monkey Baby still clinged on her under-side, she crossed the road with all four limbs... As soon as she was safe on the pavement (Monkey Baby still clinged on yea), Monkey PaPa climbed onto her swiftly and had a quikie with her! So we witness the Monkey family Sex-ing in public!
So much for a protective PaPa.. ~~
Top of Mount Fabor... I was still laughing uncontrollably..
Best scene around there!!
Best Photo of the day goes to..... TaDa! Not edited ok! Look at the beautiful Clouds!!!
-the end-
♥ UncleDon & AuntieVon Scribbled ♥


My 22nd Birthday Continued!
We hang around in taka till 6pm before heading towards Grand Copthorne Waterfront Hotel for our buffet dinner!
Ahhh finally the start of our International Buffet!
The oyster here is heavenly man! thank god its a buffet so we had an oyster fest. Each of us down 10 oyster each! haha totally making our money worth here. Oh btw they are having a one for one deal for all UOB card holders! thumbs up for that.
We wacked the prawn too! and those sashimi is so so fresh!
Ok Guys check this picture out. I told Auntievon that this LOOKS like a giant fondue machine but she was bent on convincing me its a VASE! i know its a vase man im saying it looks like a fondue machine...check out the chocolate flowing down from the top!
Auntievon stuffing her face with plain white rice at an international buffet. wth is she doing?!
Super huge onion!
Any mousehunters will know this is a good and expensive cheese!
We took a slice of other cheese. Livarot, Cheddar, Brie and Port Salute. Wow Livarot is the killer man! it has an overwhelming rotting taste..damn, i almost had those oysters coming out of my oesophagus after taking a bite of Livarot. Never taste that shit again! period.
♥ UncleDon & AuntieVon Scribbled ♥