yup and I also bot that zip top at BV. cheap too!
Got a grey one instead of the black one featured!
Asolute love the slouchy cut!
I am into baggy wear, dun like tight stuff..
makes m uncomfortable.
when I am slimmer I will go back to figure huggin' again..
had dinner at AMK Mac's
think me and Dear got
featured
caught on camara as there was filming going on..
oh dear, maybe we are caught on some drama WAHAAA,
dun think so much dun think so much Von.
**********
sales at The CreateBox haven been fantastic except for the sales we are getting from friends.
I really dunno what's wrong.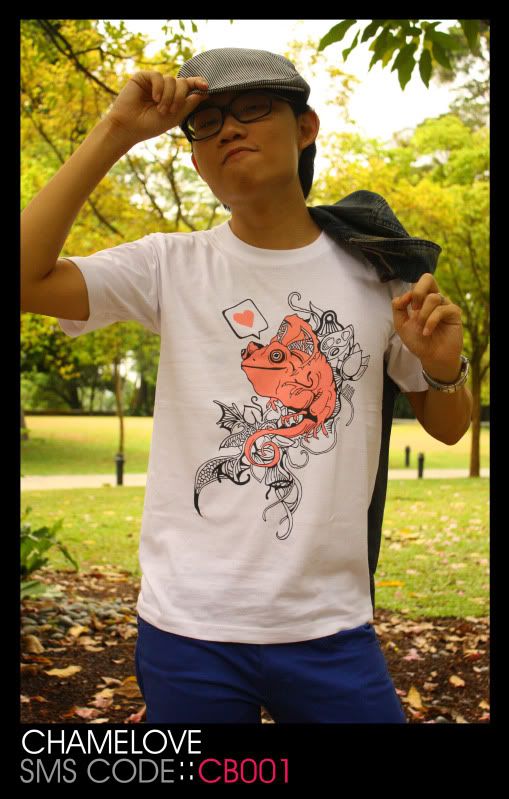 this is really my favourite!
The CreateBox now is having this promotion:
where else can you get such a good deal?
but apparently, it doesn't appeal to the masses.
it's either the designs or the price.
Since ppl hve been telling us that the designs are nice,
we assume it's the price!
so here we are bringing the price down by a WHOOOPING S$4.90!
but let's face it, SG ppl are brand conscious and fashion FOLLOWERS.
they follow ppl's fashion and they buy branded.
No BRAND No Talk.
Talk about our fashion sense, we follow.
I mean no problem with that, I follow too you know!
But can't we have a little support for our Made-In-Singapore Brand?
It hurts when you know nobody supports you purely on the fact that you are a
NOBODY
!
throw that in your face!
Come back to look for me when you are an established Brand, and when ppl are already wearing your stuff, then I will consider buying you now..
For now, I can remain contented with my Branded labels.
Ya right! I say,
"it's a
pity
you dun noe how to appreciate the good stuff in life."
The CreateBox will still be bringing in more stuff.
We will not be detered!!
*********
outing got cancelled today,
so I stayed home to clean out my wardrobe and also my MESSSSSSSSSY table!
well it's a practice i practise every time just before school starts..
i cleaned out a whole bag of unwanted clothings.
Mostly Old/out-of-fashion/lost interest in them.
stuffing them into the store room to make way, less my mother complains again..
My t60 is now out on the living room coffee table for common use.
I am ULTRA happy with my new X200 laptop!
It's like a baby...
It's good money spent, and it was hard to save up for it!
oh did I mention that I was Ultra-happy?
HAHHAHA!
********
national day is just round the corner.
I like it cos Dear always comes over for a feast that my mama will prepare.
and we will watch the parade and eat together..
we will always have fun laughing at the VIPS take their seats and also have a discussion on the military stuff!
it's like a nice reunion.
But sadly, after National day, schools starting..
Hopefully I can manage with the FYP wich seems like very hard..
"you may be asked any questions however remotely it is related to your project"
this is freakingly scary man!
my whole undergraduate career is staking on this!!!
ARGHHHHHH...
A man has got to do what he gotta do!
you either die in the battle or die fighting the battle!
i hope i survive it..
dancing to the tune of MC Mong:
-the end-
a.Von