Sunday, February 8, 2009
National Vertical Marathon
8th Feb finally come, the day where we will climb Republic Plaza.
This plaza along Cecil Street:
Race details:
Climb up 60 stories of this building without fainting, puking, crying, cramping or any of those other nonsense.
This is UncleDon's first Vertical challenge!
We happily joined the Lover's Challenge category!
Honestly, with my past experience of Swissotel Vertical Marathon,
this one is tougher!
Albeit lesser stories, it seem harder to climb cos the number of steps were more!!
Plus, it was different to climb alone and with UncleDon.
Climbing with UncleDon was such a pleasure,
he always stayed behind or beside me, ensuring my safety!
His hands never left my waist, where he supported me throughout the journey!
Tired and panting, both of us finally made it to the top - HAND IN HAND!!!
WHEEEEEEEEEEEEEEEEEEEEPIE!!
Totally shagged out after the climb...
As we rumaged through the goodie bag, we were pleased to find 2 tees in it!
We thought the Zuji.com tee has an innovative slogan on it,
pls see photos for reference..
We just sat down at the steps where we recovered from our excited state..
Our buttocks left behind two sweat patches..
Too bad the camera couldn't capture the image..
After that, we had a mini photoshoot with the tees!! So we got 3 sets of photos as shown below!
YAY!
Intended plan was to go do some other stuff, but UncleDon say that we HAVE to succumb to our tiredness..
so we just
guai guai
headed home to rest..
This was just after the rest, we wore our Jersey for the occassion!
p.s. sweaty lehhhh... haha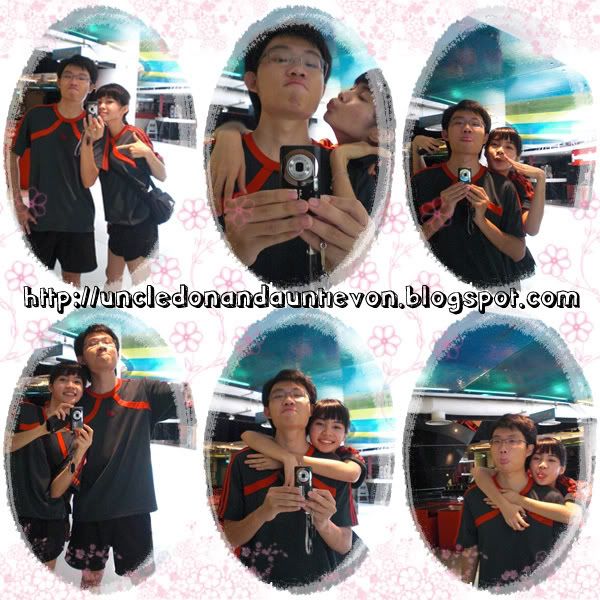 This is the Zuji.com tee we were talking about..
Cool right?
The front says "Free Size", and the back says "Holidays come in different sizes", with the size of your tee shirt in
giant
lettering!!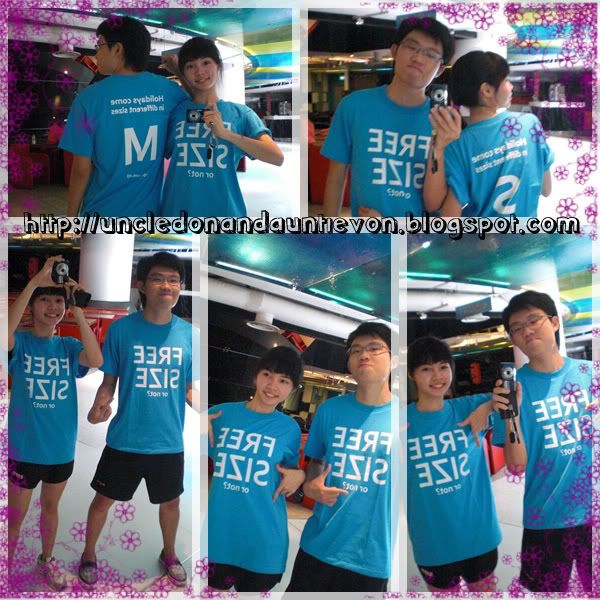 This is the Official event tee! UncleDon loves to cover his face with the free frisbee given..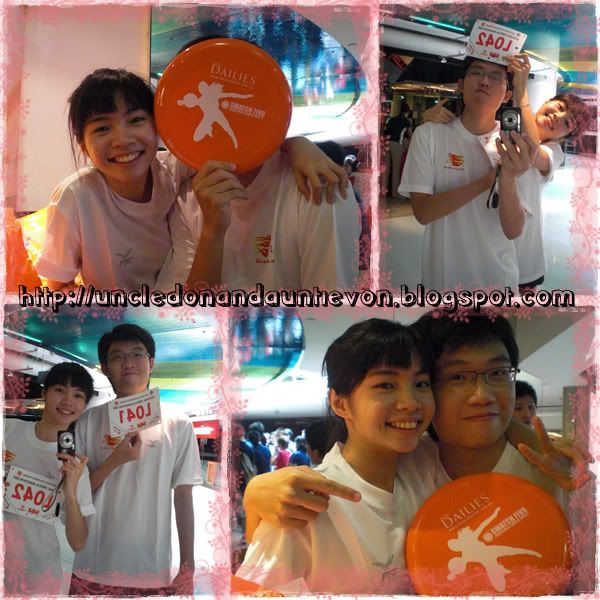 We are SO going to join again next year right UncleDon?
Thanks for the eventful day once again..
♥ UncleDon & AuntieVon Scribbled ♥