Saturday, February 14, 2009
About The Best Valentines' Day ever - 140209
This years valentines' day had two parts to it,
Part 1 was on Friday evening, when Dear presented me with his specially ordered flowers!
They were so pretty!
I love them!!
Following which we headed to the Army Market for a simple fare of dinner plus shopping for my backpack!
Backpack was sponsored by UncleDon!
Wheee, just a simple evening but I enjoyed it thoroughly.
Glad auntiveon loved the flowers and the balloon which was so hard to transport over due to the massive crowd in the train. The balloon kept hitting the head of the other passengers. ahha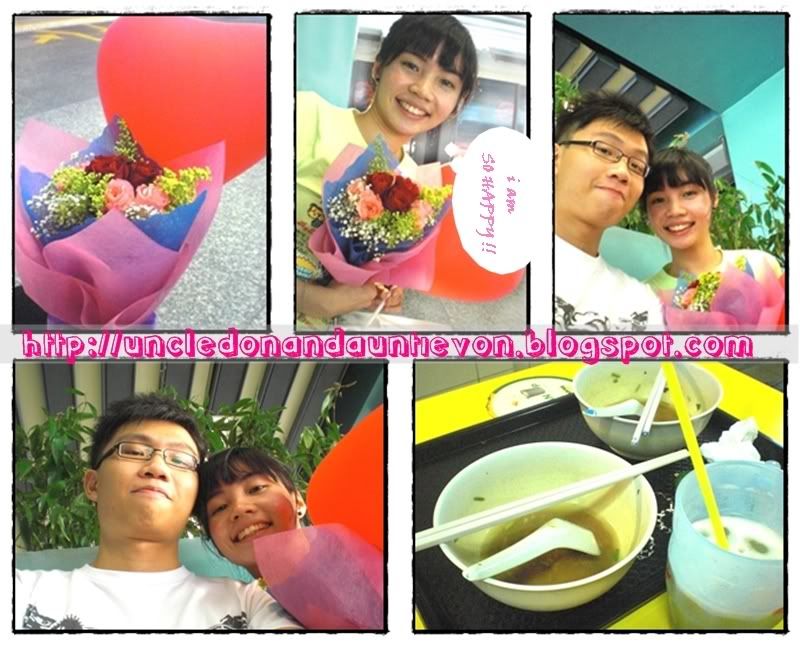 Part 2 was Saturday evening!
We had our romantic bbq at the Labrador Nature Reserve!
Before that, we did shopping at Giant Vivomart!
I shall leave UncleDon to describe our shopping experience...
We bought our stuff to bbq: 1 pax chicken drumlets, 1 pax chicken wings, 1 pax corn, 1 pax beef, 1 pax hotdog, 1 pax sotong balls and sweet potato. Auntievon is so auntish at choosing sweet potatoes. I guess i stood there for like half an hour while she chose the best. We threw a $8 plus salmon at some corner of Giant as it was too expensive!
We lugged all our barang barang to Labrador..
The scenery was awesome!
we wasted no time and UncleDon quickly got the fired started while I got the food marinated!!
I was really a wise choice to buy the more expensive marinade!!
Made our chicken wings taste really high class!!

During dinner, I presented UncleDon with a surprise!
Just a keychain that I tot is rather cute to go with our backpacks!
Thanks for the keychain and the handmade card dear. I guess i will be known as "ED"

As we enjoyed the sea view and cool breeze at our dinner table,
we took some photos!
Check out our food!!
We have Chicken Wings, Drumlets, Hot Dog, Butter Corn, Sweet Potato, Cream of Mushroom soup, Shabu-Shabu beef!!
The corn is the best lo! and the Hot hot cream of mushroom soup! so clever of us to send it boiling using the charcoal!
I thought it was already quite a spread for the two of us!
After dinner, we cleared up all the stuff and turned the tablecloth into a poncho..
laid it on the grass and relaxed..
Definitely a very nice way of spending the night..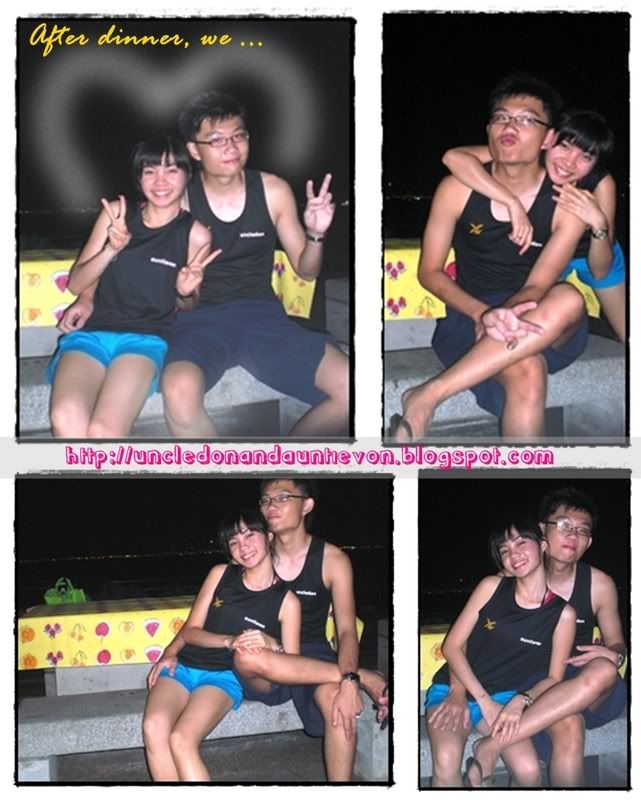 We hope you have also enjoyed Valentines' Day like we did..
Signing out is
UncleDon
&
AuntieVon
.
♥ UncleDon & AuntieVon Scribbled ♥