Tuesday, January 6, 2009
Finally got it - The day that I will tidy my room..
It has been pretty much of a mess ever since the last sem, just that it has been progressively worsen..
In view of the starting of a new sem, the New Year and also the Lunar New Year, I have decided to be a good girl and tidy up my room..
In the midst of it, I still had fun and took photos of my belongings..
some unearthed after a long time...
First up, the initial mess of my room: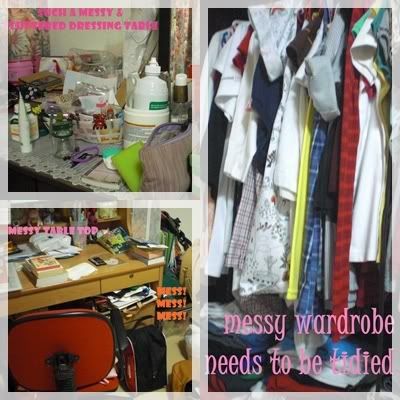 Next, I tidied some of my belongings:
and I realised that I actually have many many beltS!!!
ok but than I always wear that same few belts..
Third, I unearthed all the love letters dear wrote to me some years back..
reading those letters again brought back memories..
can see all the effort he has put in..
now that we are all busy,
such letters are few and rare but I will cherish every one of them...
and I took pics of the stuff toys UncleDon sewed long ago..
I really love them..
Tho nth fanciful, they are always on my shelf, accompanying me..

Finally, after 4 gruelling hours of packing, cleaning, vacumming, mopping,
the result of this !!

I am so satisfied with my work!!
Woo hoo!!! Anybody needs housekeeping ??!
signing out
-auntievon
♥ UncleDon & AuntieVon Scribbled ♥