Wednesday, December 31, 2008
Shall spend this entire post blogging about the past week's occurences..
And it shall also mark the end of the Year with this last post of the year!
***********************************
About 23-12-08 : Trip to Velocity's Lao Beijing
went on an outing with Ivan, Gary, Tian Guang, Ying Rui, WenTing, Jing Yeen, Johnson for a Dim Sum Buffet @ Lao Beijing..
For only S$10.80++, we get a spread of dim sum!!
Altho we all agreed that the variety wasn't there as @ Yum Cha, but I have to say that their food was delicious..
Tho we kept saying we full already but still we continued to eat and eat and Eat and EAT!!!
Until we very, Very, VERY FULL!!
Especially love that
Cong You Bing
,
Guo Tie
...
YUM YUM!!
After the food we went to Party World to have a K-session..
Me and UncleDon agreed that it was so stressing to sing with them..
The proS in the room were Wenting & Gary....
UncleDon and I could only do some occasional silly stuff like rapping Jay's song and screaming at the top of our lungs, trying to get high!
Pictures below can show how fun it was!!
Our nxt outing peeps - NYDC!!! for the mudpie!!
Right Ivan??!
HaHaHa...
About 24-12-08 & 25-12-08: Days where UncleDon was free!
Spent two nice days with UncleDon.
Laze at his house, played mahjong, designed stuff!!
Simplicity but fun!
About 26-12-08: Christmas Outing with Peiqi, Jialing & Sinli
This is our annual affair since JC..
We would prepare gifts and cards for each other..
altho it is quite alot of effort but when you see your frenz receiving your gifts, it just makes everything heart-warming and sincere..
Had a lunch (a Very long one) at Shokudo, Heeren..
The place is very well-done up, with different sections..
concept is similar to marche, just that this is Jap version..
each section has a particular type of tables and chairs..
cool and the Best is there's no crowd!!
So we basically took our own sweet time to do out photoshoot!!
Looking forward to our next gathering girls??!
HAHA..
pics * pics * pics *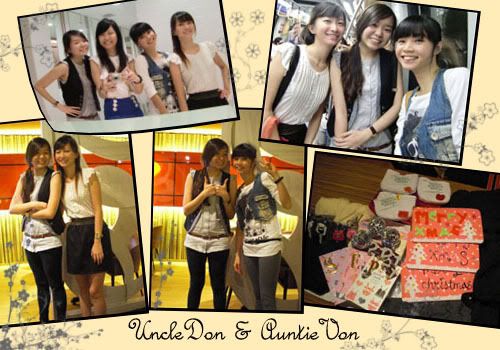 About 27-12-08: Date with UncleDon & Christmas Dinner with Peiqi, Jing Yeen & WenTing
After lunch with UncleDon, made a trip to Spotlight to get some materials for my upcoming project..
Walked around a lil before it was time to meet the girls.
UncleDon sent me to City Hall and the girls were all dressed up!!
Dined at Kenny Rogers which WenTing took the effort to made a reservation..
But it turned out that there wasn't a crowd..
Surprising..
After dinner, we went to the "rooftop" of Marina Square for a photoshoot!!
Not much photos taken because we were trying to catch the sun setting scene..
They started to complain of the heat due to the lack of air-con so we made our way to M.O.F for some hearty, cooling dessert!!
After which we separated for home..
A Great evening in the companionship of friends and gifts..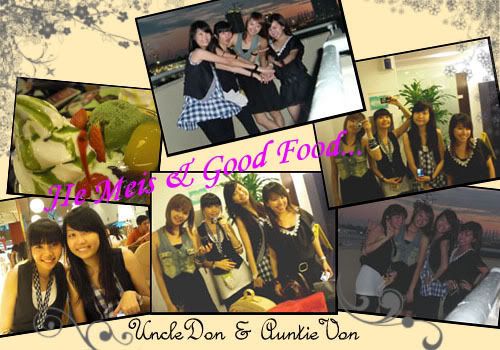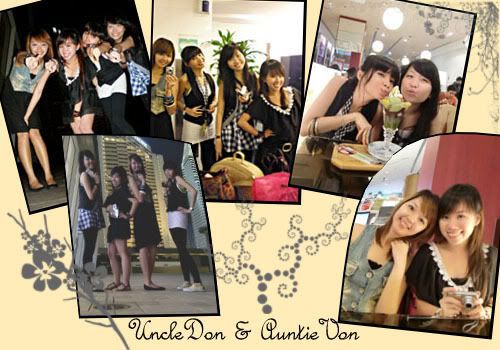 About 28-12-08: Slacking at UncleDon's House
Intended to play some mahjong with UncleDon's Pa..
He's a pro, I got bankrupt and the game ended..
Dinner was sumptous and delicious as always..
Love going there for dinner..
I will grow Fat Fat..
WOOOOO Hoooooo...
About 29-12-08: Modules Discussion & Latinorobics session
Met Jing Yeen & WenTing for a module discussion in the afternoon..
After which is a much enjoyed Latinorobics..
We did some broadway, jazzy swing dance..
Love it altho it wasn't that much of a work-out as the normal latino stuff we did..
Following aerobics is our favourite moment!
To Subway!!! and pls Wenting, Italian B.M.T. is nice OK!! like for the eigth time....
About 30-12-08: GlamRags meeting
Had to settle GlamRags stuff for our Fourth Collection...!!
Hope sales will be better with this economic crisis..
Support Support ok!!
About 31-12-08: GlamRags Forth Collection PhotoShoot
Photoshoot for our forth collection went as planned!!
Following which was dinner with UncleDon and his peers doing the same minor..
Fun dinner although we ate Billy Bombers..
freakin expensive and it's like normal fried food!!
accompanied UncleDon home.
He slpt all the way home and looked so tired cos he only slept for 1 Hr the previous night..
Poor thing..
Have a good sleep tonight ok?!
*************************
Happy New Year UncleDon.
I Love You..
♥ UncleDon & AuntieVon Scribbled ♥